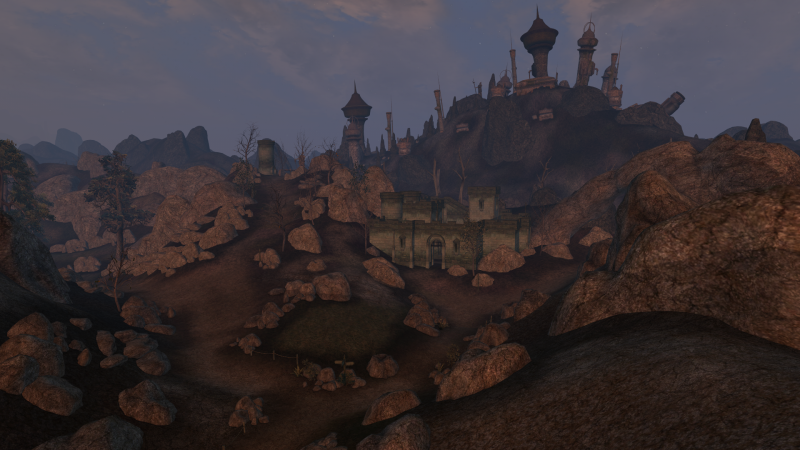 Vanilla Fixes
* Fixed several issues in Helas Ancestral Tomb.
* Removed several duplicated quest containers.
Rebirth Fixes
* I think I have managed to solve an issue with the Pelagiad Mages Guild. In 2.6 and 2.7 the Mages Guild building would sometimes not render properly.
* Removed "Cinia Urtius" from Tel Fyr docks to prevent doubling; She had already been added to the game by the Morrowind Patch Project.
* Added a key to "Varvur Sarethi's" bedroom. Access to this room is required in order to complete a necessary quest for House Redoran.
* Adjusted the Ai package for Renell, Seyda Neen. He will no longer walk into stuff in his shack.
* Removed "Thieves Guild Armor" from "Ivrosa Verethi"; She's a member of the "Comonna Tong".
* Hashir, the Innkeeper at Red Lantern, Seyda Neen, will no longer offer moon-sugar for sale.
* Adjusted spawn-lists so that you won't encounter Dwemer Centurion Archers too early on.
* Fixed an issue with the Ebony Tanto. The handle of the tanto was glowing.
* Fixed travel markers inside the East Empire South Warehouse, Ebonheart.
* Ibarnadad Assirnarari in Suran will now close his shop night-time.
* Made several visual improvements to the Ald'ruhn Temple Complex.
* Fixed incorrect AR value for the Stalhrim Helmet (60 -> 55).
* Made several visual improvements in Ebonheart.
* Fixed an incorrect texture-path in the "Face of Kagrenac" mesh.
* The Nord inside "The Evil Mudcrab" is now less naked.
* Removed a duplicate door in Caldera, North Towers.
* Fixed various interior issues in Seyda Neen.
* Fixed several path-grid issues in Balmora.
* Removed 3 floating hooks in Ebonheart.
* Fixed a broken trap-door in Ebonheart.
Balancing
* The Hunger is no longer immune to frost/fire/shock (still immune to poison), although it will still have a pretty decent defence against these elements (50 % resistance). I hope this will make life easier for mages, who for obvious reasons had a very difficult time dealing with these creatures. Additionally I've given the Hunger a few more hit-points to compensate for this change.
* Alchemy - Increased the number of points you receive each time you manage to brew a potion (0.5 -> 1.0, vanilla 2.0).
Graphical
* New improved meshes for all steel weapon. Thanks to Pherim for the hard work with these!
* New improved meshes and texture for "Kwama Eggs". Thanks to Pherim.
* New textures for gravestones.
* New improved icons for (Thanks to WH-Reaper):
- Ebony Spear (Unique)
- Falmer Shortsword
- Falmer Longsword
- Iron Skull Shield
- Karpal's Friend
- Erur-Dan's Spear
- Steel Dagger
Balmora's Underworld
* Fixed several enchantments, which had no "duration", making them useless.
* Fixed some floaters.