The MEC2 team is also looking for a few more people to fill various positions. For full details you can check out the MEC2 help wanted forum, but in brief the positions include a video composer, a rigger, an animator, a particle FX artist, an AI Coder, and a 2D artist. So if you want in on one of the most eagerly anticipated mods around, this is your chance!
Medibot
The Medibot concept has been a staple of UN humanitarian and combat operations for almost a decade. The latest generation of these medical robots, developed by Nethia pharmaceuticals, was deployed in the British military with the intention of making hospital-quality care available anywhere in the world without the need for an extremely valuable and vulnerable doctor in dangerous environments and away from his or her home hospital for extended periods. The Red Cross and Doctors Without Borders plan to begin employing these devices next year, as they will allow far more efficient distribution of medical care worldwide. In the field, the unmanned vehicles are remotely piloted by a trained military medic or nurse practitioner, and when a casualty is found that requires specialist doctor care, elite physicians in America or Western Europe can immediately take control of the robot via low-latency satellite uplink. Wounds that would have invariably maimed or killed soldiers in wars even up to the end of the 20th century can now be immediately treated even under fire and the soldiers lives and limbs saved. UN medibots are armored to withstand small-arms fire and shrapnel fragments, as international laws protecting them in war zones have not always prevented them from being shot and destroyed.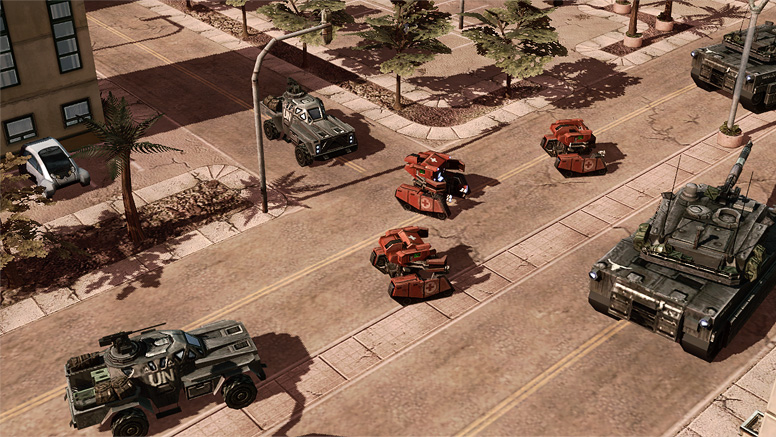 Jeep
The General Purpose Mine Resistant Urban Combat Vehicle (GPMRUCV), or simply the Jeep, is an American development to partially replace the HMMWV following the costly war in Iraq. Built on a proven three-quarter-ton truck chassis, the Jeep has a 300 horsepower turbo-compound diesel engine giving it a respectable top speed and impressive torque. This allows it to carry far more armor than any other vehicle in its class. The crew of the vehicles is protected inside a semi-geodesic cab that can be removed, repaired or modified, and reinstalled with ease. All come with a ring-mounted weapon system on the rear cab, generally a 7.62mm or .50 caliber machine gun, but 40mm grenade launchers are also commonly installed. Due to its shape, the vehicle is almost completely immune to mines and very resistant to IEDs. Small arms fire also has minimal effect on it. Following its success in Iraq ad Afghanistan, it's been purchased by a number of UN powers also involved in frequent peacekeeping operations, notably the British. The deployment of these vehicles has greatly reduced the number of casualties American and UN forces have taken in urban settings.
M1A3 Abrams
General Creighton Abrams would be proud. The M1A3 is the last major version of one of the most successful tanks in history, and one of the longest-lasting in frontline service. The M1A3 Abrams is armed with a Rheinmetall-designed M256 120mm L/44 smoothbore cannon, two 7.62mm M240 machine guns and is covered in depleted uranium Chobham armor and reactive armor tiles. While the M1A3 is presently being phased out in the American armed forces in favor of the Future Combat System MCS, they've been serving very well in UN peacekeeping missions and as export vehicles to allied nations. The M1A3 differs from its predecessors in only a few visible ways, primarily dealing with sensor packages and close in defense weapons. Due to urban combat experience, the Abrams is often armed with a Mk19 40mm grenade launcher on a high-angle remote-controlled pintle to allow the tank to engage targets in tall nearby buildings. However, the most recent upgrade to the Abrams just now becoming mainstream in UN service is the M1A3 NRS which includes a modular nanite repair system that can be used to almost instantly repair damage in the field by drawing off battery and engine power. Using the NRS leaves the tank immobilized and unable to return fire for a few seconds, so tank crews are urged to find cover before engaging the system.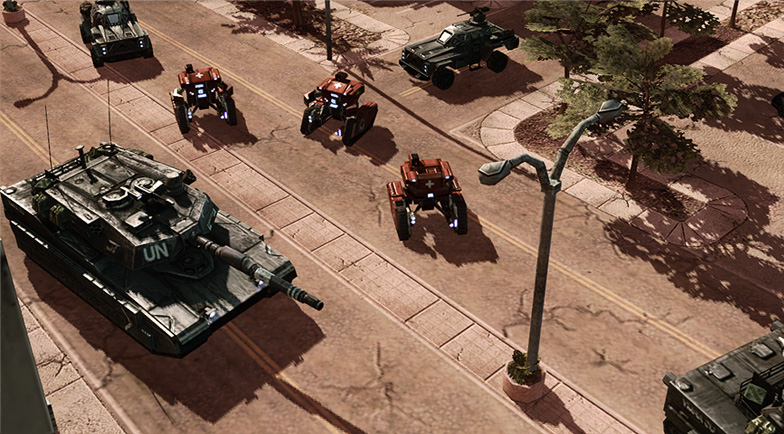 F-35
The F-35 Lightning II, or Joint Strike Fighter is now one of the world's most common combat aircraft, with over 2,000 of them in service with ten nations worldwide and still more considering buying them. Essentially a replacement for the F-16 Falcon, the F-35 is faster, stealthier, longer ranged, just as maneuverable, and has far better combat survivability. The B variant also has vertical takeoff ability, allowing it to fly from unprepared surfaces and field bases like a helicopter while still outperforming most combat aircraft. It's one of the world's first VTOL-capable aircraft also capable of supersonic flight, with a maximum speed of mach 1.6. In service with Israel as well as most UN nations, it's a staple of 21st century air campaigns. With rising tensions in the Middle East, the aircraft carrier HMS Queen Elizabeth has been deployed to the Mediterranean to protect His Majesty's interests in the region. British F-35s are armed with AIM-132 ASRAAM air-to-air and Brimstone II antitank missiles, allowing them to efficiently eliminate anything or anybody they want to regardless of armor, altitude or Allah.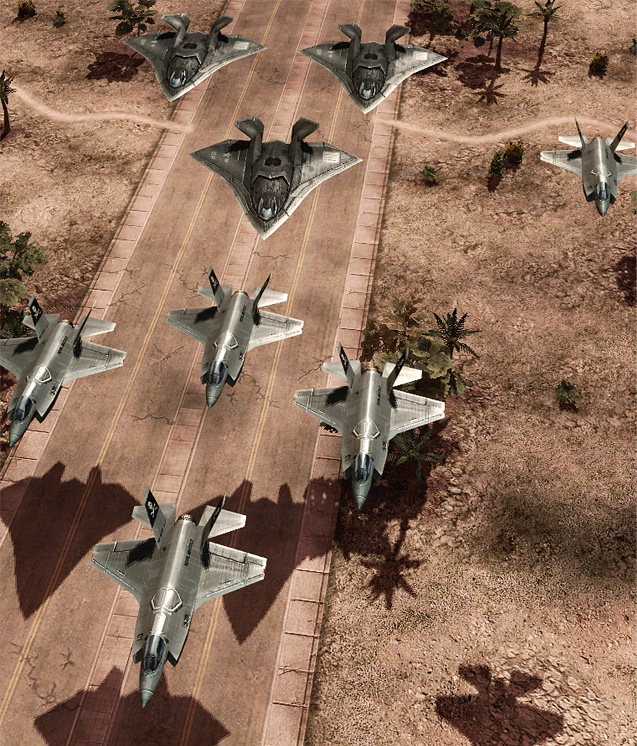 Requiem
The B-23 Requiem is the USAF's newest bomber, designed to fill the medium bomber role left by the retiring fleet of B-1 Lancers and F-117 Nighthawks left over from the Cold War. The B-23 is a direct descendant from the Northrop YF-23 that was beaten by the YF-22 Raptor back in 1991. Extensively modified and enhanced from its predecessor, the Requiem is completely stealth, VTOL-capable, cruises at over mach 1, has a combat range of over 1,500 miles, and can internally carry 8,000lbs of ordnance; 16,000lbs if external pylons are used, though this limits it to conventional take-off. One of the most interesting uses recently proposed has been to use it to sow nanoseeds. The B-23's stealth characteristics combine with the silent nature of the nanoweapons, letting the USAF . With all its features summed, the B-23 Requiem has proven to be only slightly less versatile and useful than the wheel.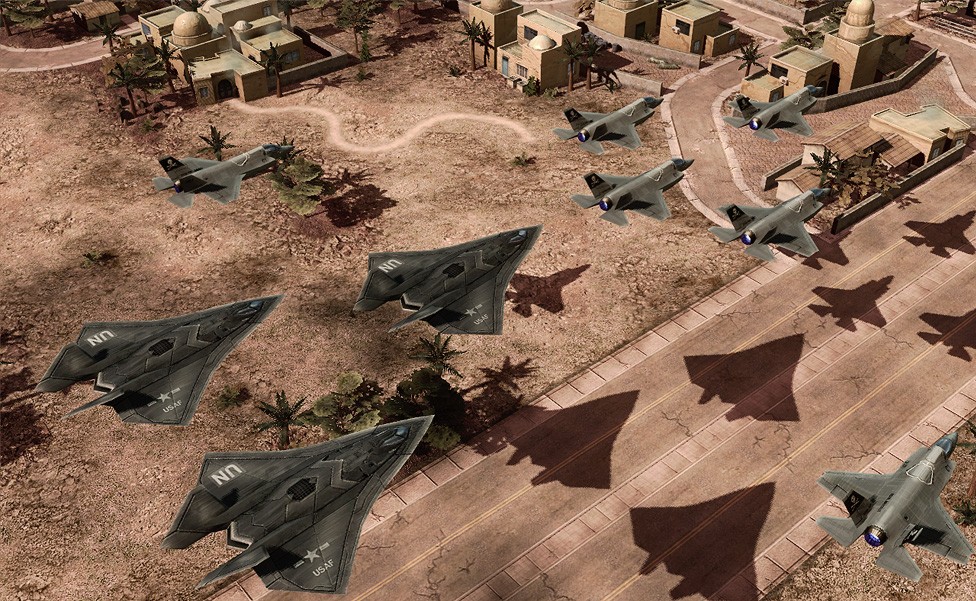 Don't forget to vote for Mideast Crisis 2 in the ModDB 2007 awards!