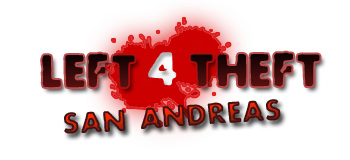 I'm very happy I can finally release the latest version 2.0 to the public. After a time of hard work it's finally done. Most bugs have been fixed and a lot of new content has been added. Ofcourse, no mod is perfect and so is L4T. It still has those smaller bugs and maybe a glitch or two but it's much better playable than version 1.0.
Version 2.0 can be downloaded at various websites, I've uploaded the file to GTAGarage and ModDB. GTAGarage is having some problems with uploading files but I expect it to be fixed very soon, in the meantime you can download it at ModDB:
And I'm sure the mod will spread across the internet like with version 1.0 which was available for download on various site within the first week after the release.
Anyway, this release doesn't mean the mod goes dead. In the upcoming months various mission packs will be released which will grant the player new playable missions and various other things. So keep tracking and stay tuned!
I hope you all will enjoy the new version and I want to thank all of you for all of your support!