YES! After 1 year and 4 months we are finally ready for the first release of this unique work of gaming art.
Kreedz Climbing, a Half-life 2 multiplayer modification, will be ready for download on Saturday18.03.2006.
We offer 24 fullscale maps, 4 player models and 3 tools(1 tool 3 skins), 3 different game modes, and quite a special ability addition for those talented enough to finish one of our maps. All of this will ship with the mod. It's a lot of content to keep you busy for a long time.
For some entertainment, I offer up my 3rd of the Kreedz Climbing To0n-Strip: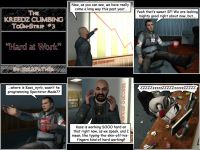 Have fun with our mod!