It's been ages since the last JAYKIN BACON, but our goal is to make a sequel to it on the source engine (for real this time) that is just as much fun, while having loads more content then the last one. More guns, more game modes, more everything! And of course, all your favorite stuff from the last one (diving and karpar are obviously a must).
One of the key elements of the first Jaykin Bacon was the way it was a mix of various games and other half-life 1 mods. We want to expand this even further, and add in more of our favorite half-life 1 mods to the mix. Rocket Crowbar, Scientist Hunt, and who knows what else. Plus more Metal Gear Solid content for the MGS game modes Snake vs Terrorists and Snake vs Monkeys.
Another feature we've added is the ability to fully edit all the guns in the game on the fly. One of the features that made Rocket Crowbar so much fun for such a long time was it's ability to edit a text file to change up how all the guns behaved, and make things entertaining all over again. We think that's a great idea so we'll be doing the same with all of our guns, but utilizing the console instead so you won't have to restart the map.
We're currently in the process of a closed beta test with about 250 people, to iron out the bugs in Snake vs Terrorists, Gungame with a twist, and Battle Royale. After those are completed, next will be Snake Vs. Monkeys, Scientist Hunt, and then who knows. And we'll be adding to the weapon count all along the way!
Even though we're taking Snake vs Terrorists, Snake vs Monkeys, and Battle Royale from the original, don't think we won't be doing some changes. For SvT, we'll be adding in a balancing system, that makes snake stronger and have more guns and ammo the more terrorists he's facing, and after 12 terrorists, you get 2 snakes, and after 24, you get 3. Once the player count gets really high, the terrorists health will decrease slightly, and they'll lose their machine guns at the higher player counts. As an added help for snake, there will be a slight chance of terrorists dropping a health ration on death for snake to pick up, and gain a slight health boost from. For battle royale, adjustments to the timer will be made once there's only two players left, and we're currently looking into a locator system as well, when only 2 remain. For Snake Vs Monkeys, we haven't started yet, but so far our goal is to make the monkeys the correct size, which is half the height of snake.
We've got a big team assembled to make this happen, including the voice actor for Kleiner, playing the voice of the killer scientists, and Duke Nukem's voice actor, voicing an alternate handgun (in his normal, non-duke voice. Haven't fully decided what we'll do with it).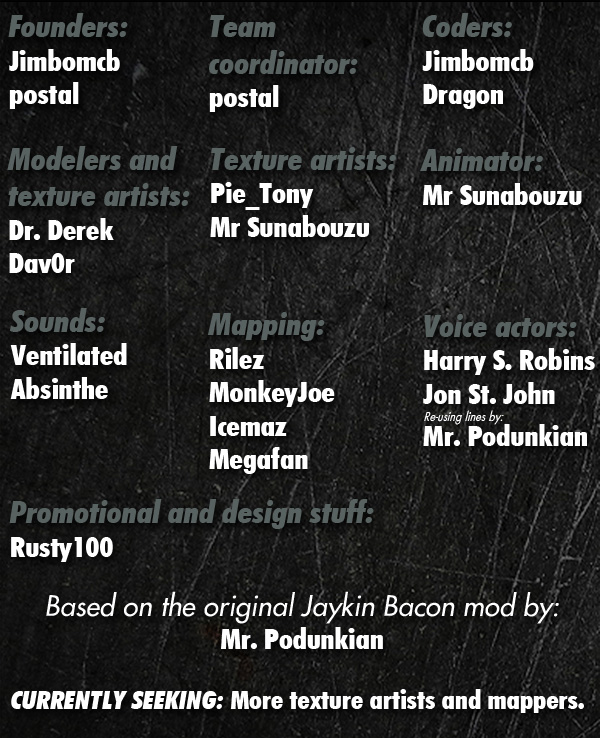 We've got big plans for this, so be sure to watch this page!