A long time ago in a galaxy far, far away...
The Empire has won a number of significant victories against the outlaw Rebel Alliance, crushing resistance wherever it has seen fit to raise its head. These opening battles of the Galactic Civil War have left the Rebellion's forces scattered and bruised, suffering heavy losses against seemingly insurmountable odds. Yet even after these severe blows to their cause, Rebel commanders are already regrouping, and redoubling their efforts to strike at the heart of the Imperial tyranny that threatens to leave the entire galaxy in darkness...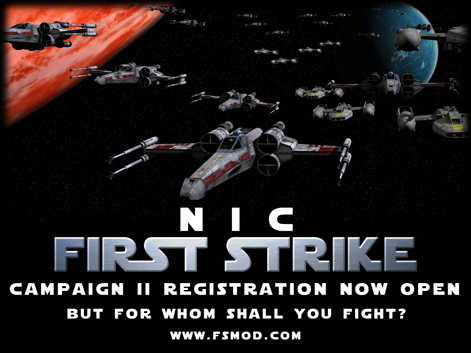 After a number of aborted starts we decided to delay the running of the 2nd NIC First Strike campaign until after First Strike 1.55 was released. Well the time has now come to give this another shot. The first campaign was an overwhelming success affording many players old and new alike the chance to play First Strike in an epic campaign with high numbers of players battling it out every weekend.
The model of this event is set up so you can join up at any point over the length of the campaign, and register with your preferred faction, and then you'll be eligible to play in any match of the campaign simply by signing up with your intent to play in that coming week's battle, allowing you to play as often or as little as you want. All this takes place on the NIC Forums where you'll also be able to discuss map tactics and strategies with your fellow troops, and receive gameplay tips from the First Strike veteran players taking part in the event.
With two factions of battle hardened troops facing off, teamwork and communication will be paramount in your efforts to vanquish the enemy. It will be the faction who works best together on the day who will succeed.
The first battles are scheduled to take place on Sunday 27th of November.
So register here today: Nations In Conflict First Strike Campaign 2 Registration
Now the only thing left for you to consider is, for whom shall you fight?