Greetings Troopers!
Good news everyone, after a few years of hard slog with not as much free time as we'd like dedicated to the mod, we are finally proud to announce the release date of First Strike 1.6!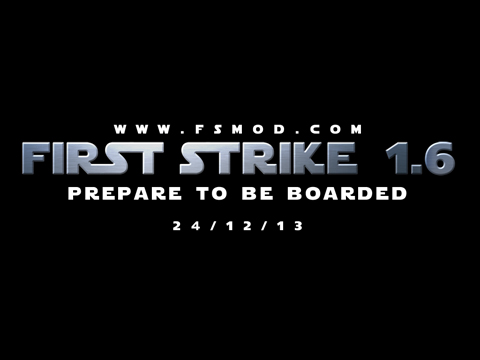 As an introduction to some of the new content you can expect to get your grubby little mitts on, in today's article we'll reveal to you the names of the new maps and the background stories that go with them.

Following a critical victory for the Rebellion, Alliance forces have captured a key Imperial advanced starfighter research station at Parmel. The occupying force must now capitalize on their good fortune by securing all the data they can regarding the facilities advanced starfighter program. Unfortunately an Imperial carrier group patrolling the sector has been diverted to the system to investigate after receiving a distress call from the station. Now the Alliance forces must defend the installation until they've completed their mission, and on seeing multiple landing craft launching, prepare for boarders.

Alliance Intelligence has received information regarding an Imperial prison complex on the shadowy remote world of Dathomir. Following some less than successful engagements with the Empire, a large number of Rebel freedom fighters have been captured. The Alliance's network of spies has it on good authority that this is the place to which they have been incarcerated. A small, but crack squad of Rebel Pathfinder operatives has been tasked with infiltrating the Imperial installation and freeing those Rebels held within.

Silver Station, an important Alliance supply depot protected by stolen Imperial technology finds itself under attack. The heavy Imperial bombardment sends a power surge through the defence net scrambling the automated sensors and creating targets on both sides. Suddenly new signals appear on the sensor scopes as both Alliance and Imperial ships respond to the growing distress calls. This region of space now faces a new threat, one that takes no sides...

Imperial Intelligence has received a number of reports regarding an agricultural settlement known as Nesmazzda, situated on the remote world of Dantooine. The reports suggest that the colony may be providing food and medical supplies to local Rebel cells. As a result the ISB Sector Chief has dispatched a small unit to the colony to gather intel on the ground and take appropriate action should their suspicions prove true. Unfortunately for the colonists, just as the Imperial forces arrive, a Rebel convoy shows up to take delivery of the supplies. The Imperial troops' course of action is now clear.
So we have a nice collection of new maps that we have been working on for some time. The new Parmel map features the long desired boarding action which will really help show the versatility of the mod as you fight for control of a space station as either infantry, starfighter pilots or commanders of massive capital ships. Dathomir is another map long in development featuring a new location to battle in complete with some exciting new assets. Silver Station gives us another unique take on the space map by bringing us a conquest style map in space with CPs that must be captured to gain victory, and a few nasty surprises lying in wait. And finally Nesmazzda brings you a community map created several years ago by community mapper Thomazz, it is a really solid map making unique and interesting use of some of our already existing assets to create a really fresh and enjoyable map, and we thought it was high time this community map got the wider exposure it deserves. Hope you're still about to enjoy the fruits of your labour Thomazz.
In addition to this you'll find tweaks to co-op and singleplayer gameplay, not to mention the addition of a few new maps to the co-op/singleplayer experience, so look out for those.
Finally I know what you're all thinking. "What, no Hoth?" It is on its way, but unfortunately not with this release, still some work to be done on that, but look out for an update on our progress on the Battle of Hoth map soon as well.
That's all from us for now, hope we can count on your votes for this year's MOTY, and we look forward to seeing you for the release of First Strike 1.6!
Until next time,
See you on the Battlefield Troopers!