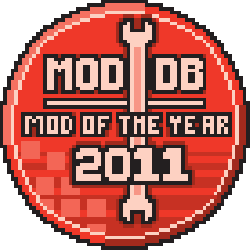 Greetings Troopers!
Just where did that year go? It is always a shock (though a welcome one) when the ModDB Mod of the Year Awards roll in, it is always hard to believe that yet another year has gone by, that Christmas is just around the corner, and yes, that it is time to take stock of just what this year has brought us.
So just what have we been up to in 2011 at First Strike Towers? Well we haven't been idle I can tell you that. We declared last year that this one would be all about Hoth, and it was. We have been beavering away at various art assets over the course of the year that mean that the much anticipated Battle of Hoth map inches ever closer. These assets have included Hoth specific character models such as the Imperial AT-AT Commander and AT-AT Driver, both brand new assets to First Strike.
In addition development has continued on the key asset required for any map involving Hoth, the mighty Imperial AT-AT Walkers. We have finalised the interior for this powerful symbol of the fearsome Imperial war machine, and have the cockpit and crew bay interiors in game and functioning. A critical step towards completion for this asset. We are still having problems with the coding side for this complex behemoth, but with new coders recruited and old ones helping out where they can, we should soon have these issues resolved.
Lastly on the Hoth front we have continued our work on the most complex and lore accurate Echo Base to ever be seen in a Star Wars game. Continuing to build on the layout asset we built a while back, we are completing the detailing process which really breathes life into these locations from The Empire Strikes Back movie. Check out the video below for a nice preview of the Battle of Hoth's Echo Base environment.
Unfortunately it has been another tough year for First Strike, what with a very small development team and external issues hampering our progress. None the less we are still committed to getting Hoth to you guys, and though progress is slow we are getting there.
To help tide you over during this long wait for Hoth we have also been working on a number of other factors that will increase the popularity of the mod. First up this Summer we introduced a Campaign event in association with Nations in Conflict and Black Intel. An event where casual and veteran players alike could come together every weekend to play in a number of battles across maps which highlight the versatility of First Strike, with both infantry maps, land battle maps and space maps played every week. Join a faction and play First Strike as it was meant to be played. With organised teams utilising fine squad work and communication to win the day. The first campaign was highly successful, and after a bit of a break a second campaign has recently commenced. So head on over to the NIC forums and sign up today.
Nations In Conflict First Strike Campaign 2 Registration
The final news on the development front for First Strike this year was that of a new release. While artists worked hard on art assets for Hoth, our mappers and AI coders were working equally hard on enhancing another element of First Strike. The singleplayer and co-op portion got a first release with First Strike 1.5, but over this year work has continued to hone the AI to levels that far surpass that which was originally released. Bot infantry now has the ability to utilise far more of the assets available within the mod making them a far more life like and formidable foe or ally. Their ability to use vehicles has also been impressively increased to include both tanks and enhanced starfighter support, opening up the opportunity to add many more First Strike maps with AI support which give a more fully rounded singleplayer/co-op experience which now truly reflects the First Strike multiplayer one.
So 2011 has been a tough year for First Strike, but also a successful one with the release of First Strike 1.55. We hope you stick with us through 2012 as we continue our efforts to complete the Battle of Hoth, and bring a few more surprises to the table.
See you out there on the battlefield Trooper!