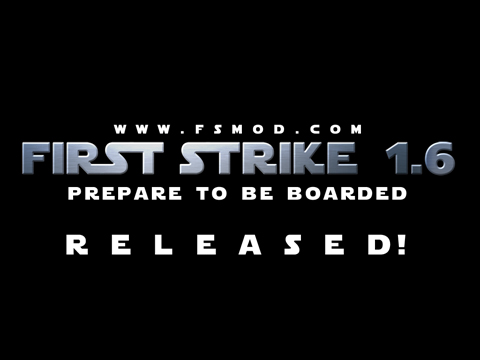 GREETINGS TROOPERS!
Well it has been a long time coming, but it gives us great pleasure to be able to announce the release of First Strike 1.6 at long last. The content itself will be available through automatic update through the First Strike Launcher, but in addition to that new content we also have a new launcher for you to try which you can link to here:
UPDATE:
FS Launcher Installers updated to fix a number of issues including allowing people to install it wherever they want. The Launcher itself will automatically update itself with the hotfixes we've rolled out this week to address other issues which have been raised since the launch of 1.6. Enjoy.
Later on we'll also release a full First Strike 1.6 installer for those who wish to install this from scratch rather than updating from First Strike 1.55. So just to clarify, you can now update to FS 1.6 from an existing copy of FS 1.55 via the launcher. The file linked to above is just the new First Strike Launcher, and not the whole mod, you'll need a copy of FS 1.55 in addition to this to play the mod. A full First Strike 1.6 installer will be available in a day or two.
We hope you enjoy these improvements, and look forward to seeing you all on the servers soon.
First Strike v1.6 Changelog:
Weapons:
- Further enhanced AI tweaks for turbolasers
- Further enhanced AI tweaks for anti-starfighter turrets
- Turbolaser and Ion Cannon Weapons Platform Satellites added
Vehicles:
- Further enhanced AI tweaks for all starfighters
- AI support added to capital ships to enhance co-op space map experience
- Space map versions of Lambda Shuttle and Sentinel Lander added with enhanced armour and shielding for space combat
- Carrier version of the Carrack class Light Cruiser added with TIE Rack launcher capability
New Multiplayer Maps added:
- Nesmazzda Conflict
- Parmel Invasion
- Silver Station
Singleplayer Map Support added to:
- Battle of Taloraan
- Jundland Wastes
- Nesmazzda Conflict
Co-op Map Support added to:
- Battle of Taloraan
- Jundland Wastes
- Nesmazzda Conflict
Gameplay:
- Ryloth tweaks: issue of spawning to death in Rebel tank cave fixed. Sunken droid fixed in Rebel hangar
- Mos Entha Co-Op and SP ticket bleed fixed, no longer favours one side
- Null Sensor Station tower fixed to prevent shields falling through top floor
- Strike at Parmel tickets increased due to player demand
- AI co-op and singleplayer map support enhanced for more complete bot functionality, bots now able to utilise buildings with interiors and more effectively interact with the environment in general
Various bug fixes:
- New Launcher added which addresses some issues with initial installation process, also provides a faster more efficient update facility.
- Python edits leading to better server stability
Well we all hope you enjoy the fruits of our labours, and we look forward to...
Seeing you on the Battlefield Troopers!