Hallo to you all again after a long decade. As already promised I'd like to present you today the two new implemented weapons and also give some informations about the developing process of the Desolated Modification for Doom 3.
Ok so here we are (finally), the two new weapons:
Pistol:
The new pistol works basicly like the old one. But the ammo is now raised up to 20 and the firerate is a bit higher. It's a modern weapon built out of metal and very solid, there's nothing that can influence the pistol in any way.
The mystic and magical sword now existing is a very important weapon. It changed the player from the beginning he unplugged this cryptical thing out of the stone. But how does it can influence the player? Since the moment the player got it he will be able to heal himself (like in other shooters e.g. Call of Duty, Timeshift...) so that no medikits are needed any longer. Also the "Sword of Fate" gave the hero Dave magical skills like throwing a fireball (work in progress) etc. But why should you use the sword? If everything went as planned, this weapon will increase the health points of the player and the damage is heavy, but that depends on the enemy!
That are the new weapons being currently ingame and working (sword only in first person yet). So is there anything left to say? Definitely, if everything works fine we'll (or better to speak, a new coder called Cameron Law) implement a simple but addictive making rpg-system. You gain money same as Experiance and with that you can reach a new level (max. is 15). With every new Level you gain 10 Skillpoints which you can invest in Skills like more damage with a gun, a spell or just more healthpoints. To increase the damage of bigger weapons e.g. the BFG you need more Skillpoints so that you finally won't be able to increase all skills; you gotta make a decision what weapon/spell/ability you need the most. I can tell more if the system is finally implemented but now you just need to wait till that time...
And now let's get to the last part which is kind of a hiring-thing. Desolated will be as mature as possible even though it now looks very colorfull but that need to change. The blood has increased very much, still it looks not the way we want. And that's why we've been thinking of an effect to change that... but therefore we need a shader-artist who can help out. So if you think you can do so, please write me a pm. Now to the facts: the current interaction.vpf includes a parallax shader and so it's a must to keep that but still implement a cartoon look. Basicly the black-color-constituent must be increased like on the screen below. So if you're able to do so, PLEASE, tell me! It would be awesome if we can make it work. And now, here the example Screen (made with Gimp):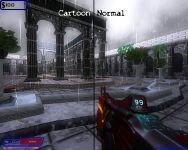 That's all for now to mention. So see you next time and stay patient!
Dave