I have recently taken a quick break for the Daggerfall specific work towards the Beta to change and improve the non-game specific UI system. I have integrated a Webkit based browser/UI system into the engine using the Awesomium library. Before I talk about specifics, I'll show you a preview – running in DaggerXL:
(click to see the full size image)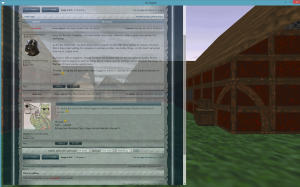 I will be using this to build cross-platform elements for XL Engine specific UI using HTML5/CSS/Javascript controls. This has several benefits:
* Anyone with knowledge of web technologies can edit or build UI elements using this system – no proprietary new systems to learn.
* I can embed useful elements directly into the engine such as in-game access to the IRC channel, documentation from the Wiki, the ability to search the forums to resolve issues or post about a problem while in game, tutorial videos built right in and more.
* Robust UI, text, language, formatting, layout and animation – all built in.
I am also planning on rolling the launcher into the main executable, allowing you to start the engine and switch games without having to exit out first. The flexible, robust UI system that this allows will be vital later, when its time to start working on the editing tools again as well. Another thing I am planning on doing is allowing game specific code/script to be edited and updated right inside the engine (WYSIWYG) – using CodeMirror.
Here you can see an early version of the code editor (still incomplete):
(click on the image for a larger view)