A while back I put up this post: DaggerXL Terrain in the Beta Part 1. I searched the internet for heightmap images (or as close as I could find anyway) of all of Tamriel in order to build the heightmap for the rest of Tamriel. I found such an image: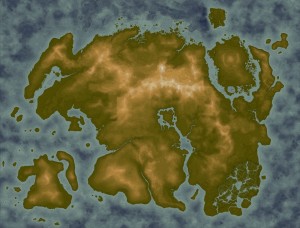 I then took this image, converted it into a heightmap, rotated it to fit the Daggerfall data while scaling and filtering it and then added in the heightmap data from Daggerfall itself. However, as it turns out, I did not do a very good job digging into who put this map together, thinking it was from earlier worked released to the public. It turns out it was put together by someone named Morcroft Darkes - which I didn't find out about until recently. Of course this is entirely my fault for not doing fact checking before using the map. To that end I will not be using this as a base for Tamriel, after all. I will attempt to find another decent source or merely leave it up to the community to help out later on. So until/if that happens, I will temporarily remove the extreme view distance feature, since basing it off another person's work, who does not necessarily wish for it to be used, is clearly unethical behavior.
Lesson learned: always figure out where a source is coming from. Usually I do this, but not in this case obviously.

On a brighter note, DaggerXL is still continuing – I will put up a more upbeat post shortly.