I'm posting another update to show a new screen from my reverse engineering efforts – "DaggerfallDOS." This picture is important, however – what this shows will be a feature in the DaggerXL Beta - DaggerXL will fully support Daggerfall saves as-is. I mentioned this as an "aside" in one of my previous forum posts but I wanted to explicitly announce the feature now that it actually works. You'll have the option of pointing DaggerXL to you Daggerfall saves (as I've done in this screenshot) or specifying a new area for the DaggerXL saves. If you do the latter, you can still copy the saves over manually if you want to use them.
(click on the screenshot to see the full size version)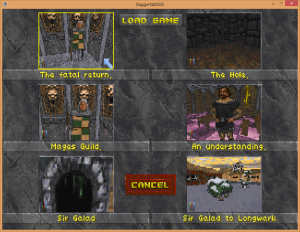 What you see here are my Daggerfall saves, from my current play throughs. (One "real" and one for testing some things). Of course this uses disassembled Daggerfall code in DaggerfallDOS to render this but it will look and act the same in the DaggerXL Beta (at least in "pure" mode at 320×200). There will still be the option of showing the date and time for the saves as well, like the current build of DaggerXL.
Once the Beta is released you will be able to continue the game from your current Daggerfall save games and play them in DaggerXL.