Release 6 news snippet #1
Blurb
One of rare positives to come from Nod factions legendary infighting is that they often come up with ingenious modifications to existing hardware in order to further their cause.
In this case a Nod faction that has a conflict with a rival Nod group that had occasional access to Stealth tanks, had strengthened their Turrets.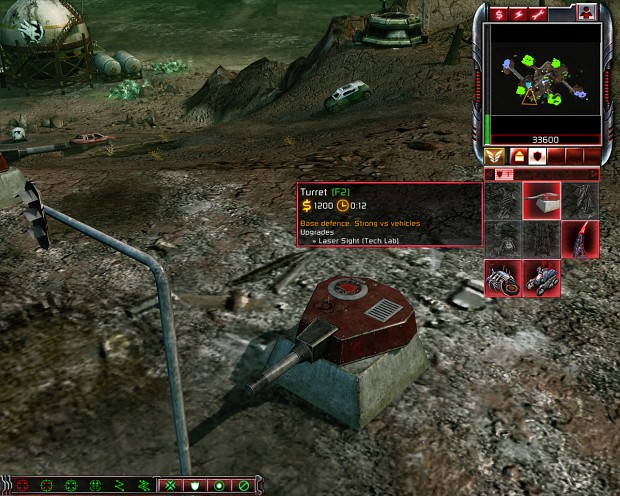 They improved the survivability by changing the construction materials.
Gave it increased stopping power.
Added limited stealth detection.
And most importantly they had greatly increased the rate-of-fire.
How was all these wondrous improvements accomplished? by placing the Turrets onto the bases main power grid!
Of course, it was the only way! The stealth detection, improved mechanised auto loader, laser sight partnered with improved target acquisition, all needed power.
"So what the hell is the point then?" ask a number of Nod base commanders, who rightfully point out that the most important factor of a Turret is the fact that it does not draw power from a base, and has such does not go down if a bases power is off-line.
Well some commanders questioned the point of the Turret full stop, even allowing for the fact that it does not draw power. The rather reasonable point they make is that for most Nod base commanders, power will never be an issue has it is perfectly normal for base commanders to run a base with a large excess of power. Things of course change drastically for those base commanders who are in charge of higher tech bases and who employ such exotic technology has stealth generators and Obelisk of light, but these commanders are not the majority.
It comes down to choice in the end. If you are happy with your Turrets in general, then you can simply accept the increased stopping power and build quality (although it should be noted that without power, the rate-of-fire is slower than the current Turret version).
If you want a much more 'modern' performance, then a complete refit package can be sent to any base commander that sends a request via their local technology lab. The upgrade package will not only convert your existing Turrets, but it will also give you the ability produce your own upgraded Turrets at will. But be warned, you should insure that you have some reserve power before you get this upgrade, several Nod base commanders were caught unaware when their upgraded Turrets were added to their power grid and their bases were plunged into darkness!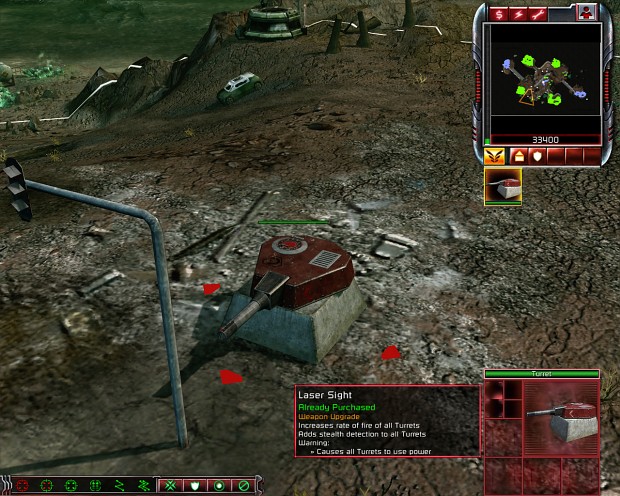 Notes
This is the new replacement Turret for Release 6 of Tiberian history. This now means that all Nod base defences have some kind of upgrade!
This is a 'Global' upgrade, so you only have to purchase it once (currently it is located at the Nod technology lab, although that might change in the future).
I had always planned on adding this kind of upgrade (way back before Release 1) but had never got around to it.