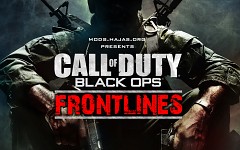 All started with the HER series many years ago, then the Epic Frontlines Mod to Call of Duty 4 Modern Warfare was born with the most complete and vast gameplay options that ANY game or mod reached before. Now everything it's beeing ported to Call of Duty Black Ops to become the new beast in FPS history.
But this time we gonna have the Global War Servers since the first steps! The GWS USA it's already online! GWS Europe and GWS Brasil are coming next!


You can join and play online, or simply play alone at home with bots as you wish.
=== Fear your Enemy! Enjoy the War! ===

---
More Info SOON @
www.mods.hajas.org