Well, as you might have noticed, the countdown until the release of Battlefield 1918 3.0 has begun. Right now, we are testing all the new maps, the new weapons and whatnot, so the the release should draw near. In order to make you fell a bit more exited about the release, we decided to show you three all-new screenshots:
Remember the Austrian Soldier from the last news? Well, time to show you his enemy; here's an Italian soldier with his carcano rifle from World War I: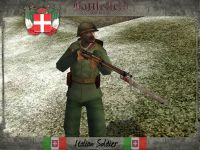 Both sides will most certainly have fierce battles in the Alps.
The next two screenshots are from the Tsingtao-map (see the last news for a nice overview video of the map). Number one shows you a soldier of the Imperial German Navy. These men were to defend the port city of Qingdao (or "Tsingtao" as it was spelled in these days, as it was a german colony) in eastern China.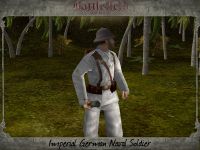 He's got a nice looking pith helmet, hasn't he?
The last screenshot presents you another new weapon, this time for the british soldiers; a rather primitive weapon, yet highly effective for fights in trenches and certainly deadly in close combat: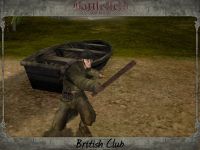 Not as sharp as a shovel, or as intimidating as the german "grabenkeule", but nonetheless enough to defend yourself.
Alright, stay tunend, and be sure to visit our homepage, as Battlefield 1918 3.0 will be released soon!