Hi everyone. Well things are going the right way. I've been taking my time on developement, primarily testing alot of things. I have also been very busy with implementing John's scenes and I am very happy with the results. I am very proud to work with John's voice actor Robert Ducat whos doing an awesome job at bringing him to life. Right now I'm planning a new and final demo before the mod's release. It will include the first three maps. But it's merely a small portion of what is to come. I have no date set yet on the new demo, I'm hoping a christmas release, but I cannot promise anything.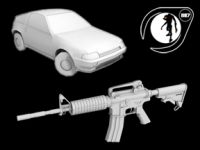 Who wants to help me texture these models ? I'm looking right for an individual who is able to skin our models from scratch. There is also a need for someone who can animate our planned new enemy npc's and perhaps new scenes which are a big part of the games experience. Perhaps that person could also help us modeling new npc models or other props. I don't expect anyone to be able to have all three of these skills, atleast we seek for now, someone who can do them skins. We're still open for individuals who want to help me out.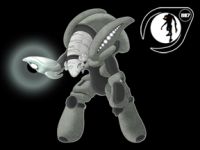 Here is a small image of one of the new enemy concepts. If someone applies for any of the openings I have alot more concept art to show, that I want to keep from the main public.
Before the planned demo I will release a small video with some new gameplay footage and some other stuff. So ladies and gents stay tuned.
Peace,
Joure