Firstly happy new year to everyone reading this.
I haven't posted much since my graduation, I will be trying to put more effort over time but for now been trying to improve on my old skills so I can make better content in the future.
Here's an example: (ak-47) -Mainly involved me building, importing to UDK, someday useable in-game.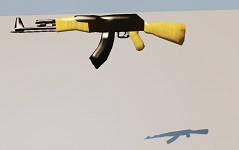 My main concern this year is that all of the game company's that I want to work for need at least 1 AAA shipped game so for now I'm working on planning a project, getting it built before 2013, yes I know thats a long way off but its just a rough idea. Anything can happen so don't expect it to be confirmed anytime soon.
For now my main concerns is improving in 3ds Max, UDK, at some point will be forced to get into programming C++.
Like I said before if anyone has any queries PM, oh and remember to check out my game page at:
But try to be patient with this because its a lot of work for one person.