We have been together for over 1.5 years now and while our relationship usually was not without problems, it still was a great time. We have at some amazing moments, for example when we finally made my first custom spawnsystem work without bugs, or when we finished the base for a in-game shop system so players could mid-game buy new items. And remember all those silly yet amusing experiments with the properties of players, projectiles etc? Yes, those were good times.
Torque3D, I've got a confession to make: I have cheated on you. Yesterday I gave Unity another try and I have fallen in love. Unity and I had been together before the two of us had even met. It was only for 3 days, but still. Back then I didn't realize how user friendly she was and I gave up very soon because I was confused by certain things. I was confused because I didn't want to put effort in learning the engine/editor, because hey why would I put effort in learning something that was free and could be discarded as easily as I had obtained it.
Then I bought you, in which I would invest quite some time because I had paid for you. It took quite some time before we could finally be productive, because you weren't all that user-friendly (especially back when there wasn't too much documentation about you), but at least I had the source code of the engine which was one of the main reason I was glad to spend some money. Anyway, back to Unity. Sure, she doesn't give me the source code, but creating a game is so much easier and faster and writing scripts feels so much more organized. Importing 3D models is very easy and doesn't require manual .dae file editing to work. I don't even have to pay for her to be mine! Yes, I'm in love and I'm going to leave you, even if that means that I have to miss your dynamic shadows and access to engine source code. This free beauty saves me so much time when developing a game and in the end time == money and spending way too much time trying to get things working right == frustration.
Farewell.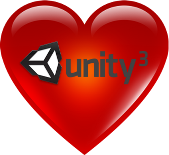 I really hope this didn't sound and look too creepy... just having some fun man don't take it too seriously :D