This is just a post to wish all of our fans and followers a very Merry Xmas & Happy Holidays! I hope that the new year brings all of you lots of happiness and good times (and releases for your favourite games/mods).
This has been a fantastic year for the Twisted Insurrection team, despite the very bumpy couple of months during the first quarter, but the good always outweighs the bad. Many good times have been had and much progress has been made on the next release. I'm afraid Public Beta 5 isn't exactly going to be an Xmas present, but hopefully it'll be released much sooner than I've actually planned it to be (we have a big to-do-list).
Despite that however, I have recently been in contact with a famous and talented individual whom Command & Conquer/Westwood fans will be very familiar with, I can't make any promises just yet, but something very good may come of it after Xmas.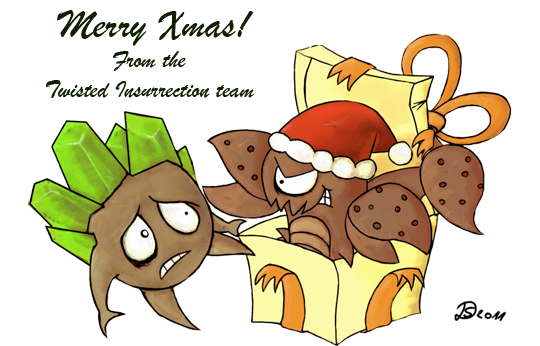 Happy Holidays, Ladies and Gentlemen. We hope you all have a great time!
Be sure to check out Twisted Insurrection around the web!