More details about the game and its progress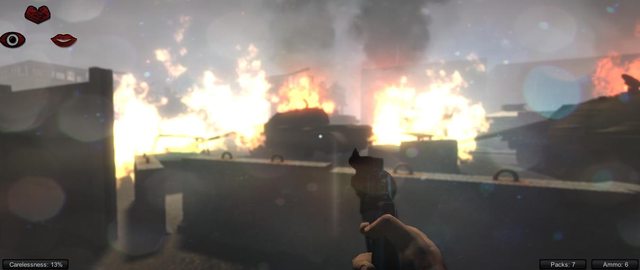 About 70% of the game is ready. Lately I'm just polishing, polishing, polishing and changing, changing, changing things. The script and dialogues were rewritten several times but now I sticked with the most appropriate scenario.
The main campaign won't have "War and Peace" longetivity, I'd say it would be 60-90 minutes long for average player. Yes, it sounds short, but there's no backtracking and the levels are very different and filled with content.
If you're an "explorative" player and want to find all the secrets and complete The Secret World story, it would probably take 4+ hours.
The shooting in the game will be slow-paced and cover-based, with only one gun (Revolver), just like in real life. As I mentioned before, it's not a typical FPS where you kill everything that moves with tons of weapons.
I watched several videos where people shoot from revolvers and read some excerpts (about Smith & Wesson Model 19 in particular) just to make sure that the shooting in the game won't look "cartoonish".
Despite all that, the game atmosphere is making feel like everything is a dream. Strange and crazy things based on real life events.

Voice actors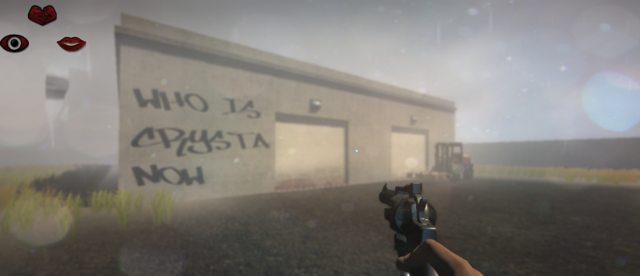 Here is the current list of voice actors (when I'll get everyone I need, I'll release a special promo page on the site as a big thanks):
Sebastian Arise - [None]
Goody-Goody-Tricky-Tricky - Olivia Steele (Grave Prosperity, Deadstar)
Neutreus - [None]
Troublemaker - Daman Mills (Super Ubie Land, Castle Dracula, Cryamore) - Currently is not available
Cultists, Hi-Sec mercenaries, Inquisition savages - James Brown Jr.
Narrator - Ryan Cooper (Stasis, Strike Vector, NOMA)
Which means I still need two more. Also, one of the actors has disappeared from the Internet (no news from him since December 2013), perhaps I need to find another one then (which would be very hard).
Plus to that, Zebbe from Watermelon (team behind Pier Solar HD) is helping with proofreading, which means that the in-game text should be mistakes-free (I'm not a native speaker, so it's always a trouble for me).
"The King" edition and Greenlight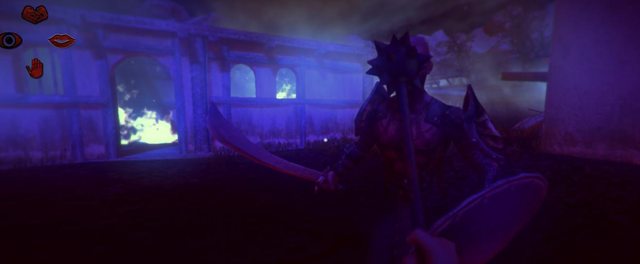 I need 100$ to enter the Greenlight. Since the press won't write about this game and posting on forums is a waste of time, Greenlight looks as a acceptable alternative for promotion.
No, I don't have such money anymore. These days I'm living...no, surviving on 150-200$ per month and spending all the month budget for food on Greenlight would be a very idiotic and destructive move.
Therefore I came up with a special "The King" pack of the game which is limited to one copy. To get this one you need to pay a Greenlight submission fee (buy it as a gift for me on Steam).
If you're thinking to purchase it, but not sure how the game looks, I can send you its current development build.
Actually, I was thought about releasing some Public build with first levels instead of all this closed beta testing, but there's one thing - once you release anything to public, people wouldn't care if it's Alpha or Beta, they will see it as a finished product (especially looking at outdated YouTube gameplay videos later). I already did this mistake with Sacred Line, I won't do it again.
What this "The King" pack will contain? You'll get:
- Lifetime subscription which allows you to always get all games from Sasha Darko for free (deluxe versions, not standard packs)
- Alpha-Beta Version(s) of The Last Disbeliever
- Deluxe edition of Release Version (Game + Soundtrack + Book of secrets (PDF) + Wallpapers + Promos)
- Your own NPC character in the game (will be stylized)
- The grave with your own epitaph in the game (will be stylized)
- Your own signed copy of the game (your name/nickname will feature right in the main menu)
- Honorable place in the game credits
- Unique pack of Sacred Line Genesis (will have your own name in the menu and credits)
- Full-length relaxing ambient album "Underwater" from Sasha Darko (FLAC quality). The more the better, right?
So you can spend money for charity (Greenlight money goes to Child's Play), support the developer, get your own super-exclusive version with lots of things and get all other SD games for free, forever.
The price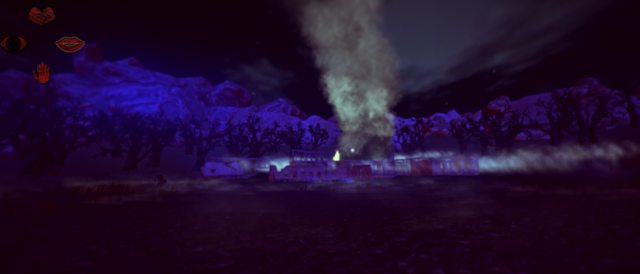 The price will be between 8$ and 10$, not more. And again, it's still a charity! All the money will be spent on my evacuation from the country where I live now. It's getting worse every single day here and I won't exaggerate if I'd say that living here just 1-2 years more will lead to the death.