It's Payback Time!
#2 – Skill Tree
We always planned on doing cool skill trees, but the idea needed a long time to mature. It had to be geared up with boilers and pipes and clockworks. Let's face it: There was nothing industrial or steam-powered about our old ability list… they were generic.
Players kept saying things like –the skill upgrading system is kind of easy. That's an understatement –it actually wasn't a system at all, just a testable list of skills that we had finished at that time. So, seeing as you all asked for it, here it is. Payback time for you guys!
Also, when people went into our game we'd usually get a "Whoa!", but after pulling up the skills list, it was more of an "Huh, right (sigh)." Visually, the list sucked. I wanted to continue that "Whoa!" for as long as I could. Maybe even increase it to an "Whooaaah!", or a "Sweeet!" and hopefully avoid any WTF's and ROTFL's in the process. Of course, if I could reach expletive levels, that would be fantastic!
We all wanted to make a skill tree that would really set us apart from the multitude of crappy clones out there nowadays. It didn't help that Diablo's Wizard was a near match in firepower portfolio to our Arcanist, and it was annoying that we didn't have anything exciting on a level up. Naturally, we came up against all the same problems in development that other games did and had a lot of "Ohhhh, so that's why they did it that way" moments. But coming to similar conclusions didn't help us with the game's originality –rather, it impeded us. We needed more diversification in our combat and character design.
After a lot of talking, we think we've finally got it. But bear in mind, this is a…
DESIGN UNDER CONSIDERATION –SUBECT TO CHANGE!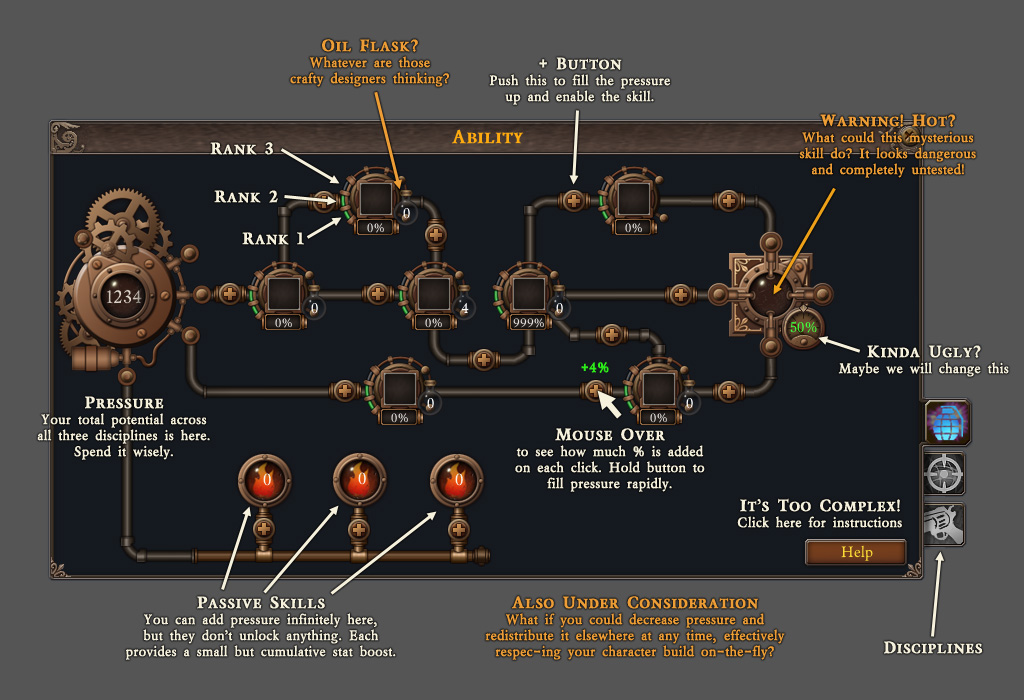 So how does it work?
• On the left you have your pressure source. This pressure is expended in filling the pipes.
• You fill the pipes with pressure in order to unlock skills that those pipes lead to.
• Each point of pressure in a pipe increases the skill's pressure by a number of %.
• If a skill has 100% or more pressure, the skill at the end lights up –you can use it!
Advanced Stuff
• You can fill a pipe up several times over, to 200% or 300%. This achieves rank 2 or rank 3 skills. Basically, you over-clock them.
• Every junction in the skill tree has an OR relationship. That means, you only need one prerequisite to get the next skill in the line (even the mysterious unmentionable one).
Super Advanced Stuff
• The oil flask is, well… awesome. It allows you to travel back in time and dance like a six-legged pixie.
• The mysterious skill is also awesome. It makes your character explode into pieces of bread with cat's heads stuck through them (isn't that what you always wanted your character to do?)… Oh, and the cats bodies are also still attached to the heads… and they meow in chorus!
So, basically, that sums up our ideas for the skill tree. Please bear in mind that this is a design that is currently being implemented and will definitely change somewhat.
Joey and Andrew say they're not sure about the bread-catting skill. Hrmph! What would they know?! Sheesh!
Well at least Andrew likes the pixie dancing one.
Afterthoughts
Charben spent so long making the graphics for this. He really wanted it to be totally perfect. I have to say, he did an amazing job. That is the coolest skill tree I have ever seen!
Some of you may have noticed there are only 7 abilities. Yes that's right. We were brutal with our hedge clippers for this next CoS iteration. We basically made a whole lot more industrial-ish and tech-ish abilities, and remove ones that were near duplicates. The result is a refined and definitive class style, which helps distinguish each class as very unique. But then again, there is that mystery skill, right?
We will hopefully release a full breakdown of all the skills for each class when we can get confirmation on the whole thing. We're doing viability stuff and working out the kinks, making sure everything is possible and doable in time.
So what do you think? Comment below or head to our forum to discuss this.
Lastly, thanks to all that had this previous discussion with us regarding preferred skill trees. Your input definitely helped shape the direction.