There is a great apps that was made by Harmon Enterprise called WOTgreal. Nice handy application that you can use to edit *.u, *.uc, *.ucl, and other such files. You need not pull your hair out trying to figure out how to change certain features in a game's character, or weapon, or format. Just run the apps and it'll practically do everything for you. (NOTE: WOTgreal will let you view your *.u file, but it will revised it once you save it. This renders it usable! Make sure you make a backup copy of the *.u file before you later it in anyway).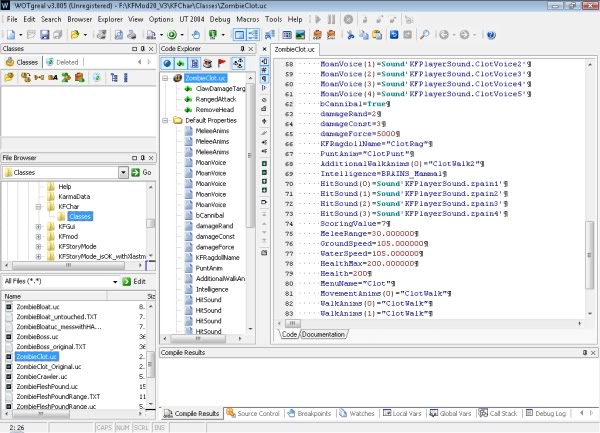 UPDATE: December 3, 2011 (Saturday) - Before you can use WOTGreal, you must extract the KFChar.u file by following these steps:
code:
1. First run cmd.
2. Then change directory by typing cd c:\program files\unreal tournament 2004\system.
3. Type ucc batchexport KFChar class uc ..\KFChar\Classes -mod=KFMod20.
4. The KFChar folder will appear in your C:\Program Files\Unreal Tournament 2004\System directory.
5.Use the WOTGreal to make the changes the KFChar folder and save.
6. To repack the KFChar folder, simply type ucc make KFChar -mod=KFMod20. Or use UMake and browse C:\Program Files\Unreal Tournament 2004\System\KFChar folder. It will load the compiled KFChar.u file in Unreal Tournament 2004\System.
You can download UMake from - click here.
And if you still need help, you can always contact 100GPing100 at Miasma forum. And for more detailed information click here (Miasma Forum).