The Arena:
Welcome, Stranger! Here I shall explain to you the Arena!
The ancient sport is coming back to life, years ago and on many worlds it had different names different styles but it all came down to the fight! I will explain to you how to start a fight and some basic rules.
First Step: Pick your opponent!
Ask a fellow ally or even enemy to fight you in the Arena. Remember, Honor above all! This is a Sport, not a Life and Death situation!
Second Step: Choose your weapons!
You can`t just come into the Arena with a whole arsenal, so choose your weapons wisely! From a Lightsaber to blaster pistols, all weapons are allowed, remember to write down your kit somewhere and alert others of any weapon modifications but make sure it does not vaporize half the arena with your opponent!
Third Step: Your Arena!
Choose where you fight! Thanks to our highly sophisticated technology, we can represent battlefields from around the Galaxy! Ever fancied circling your opponent like a serpent, dueling in the Senate Room? Or maybe dash across the fields of Mandalore with its rocky plains filled with vehicle wrecks? The hot and dangerous Deserts of Tatooine? Or the dark and damp Tombs of Korriban? In the Arena, you can have them all, and so much more!!!
Fourth Step: FIGHT FIGHT FIGHT!!!
Use every means necessary to defeat your foe! Use the environment to your advantage! But remember: Fight honorably and NEVER go in for a killing blow.
Now you have what you need to fight in our Arena. Good Luck, and let the fight... BEGIN!
Types of Duels:
One on One:
The most simple and basic dual, fight an opponent and try to win.
2 on 2:
Exactly like the one on one, but fight against two opponents with a friend! But don't forget the nature of duals, they are turn based so await your counter.
Team Battles:
Relive epic battles with your allies! From the Battle of Hoth to the Sacking of Coruscant, you can fight against the Arena`s holographic enemies! From Sith Lords to militia and even Rancors!
Gun Fight!
No Lightsabers, vibro-swords or Force Powers usable! Just plain, simple gunfighting!
Sword Fight!
No Force Powers or ranged weapons! Just simple melee fights!
Rules:

1) The Judge`s word is FINAL!
In each 1v1 and 2v2, there shall be a Judge. His word is final, and he is expected to act completely neutrally. Only certain people may be judges.
2) NO GODDING!!!
No God-like moves. None. You cannot bring down a random ISD crashing down onto your opponent. The most devastating offensive power (that I know of right now) for the Arena is Force Storm, though when using it you are immobile. No uber weapons (nukes, ships), no uber armor (unbreakable armor, ISD-type armor) however combining the might of regular weapons is allowed much like in the first battle listed below.
3) Be FAIR in your attacks and defense!
Remember, you arn't a super Jedi like Yoda or Mace, nor a Sith like Revan or Sidious. Dodging or deflecting everything is impossible. If, for example, you are using the Force to do something and your opponent shoots a missle at you, YOU GET HIT! Same goes for lasers. Remember, you (should) have strong armor to defend you against those attacks!
4) Don`t assume what the other player will do!
When taking your turn, don`t do anything to your opponent I.E. Making him crash into a Wall, then Force Pulling him into a pillar ect. He may be able to stop you. Attack and Defend then Counter attack, that is all. This is RP, not a story and you are not the writer!
First Duel: Mandalore the Regent V The Dark Lord
Yes, you heard it right! Two of the most dangerous warriors in the Galaxy, battling it out! Can Mandalore defeat the mysterious Dark Lord and his impressive array of Force Powers? Can the Sith make the most experienced and deadly Warrior in the Galaxy kneel? Find out soon! They are using an advanced indoor Arena.
3!
*Mandalore holds his breath and takes out his trusty Mandalorian Assault Rifle*
2!
*The Dark Lord takes out his Lightsaber, and readies himself for the fight ahead, lightning crackling from his hands*
1!
*Both warriors stare eachother in the eyes, Mandalore seeing a pit of pure Hate and Darkness, the Dark Lord seeing Mandalores helmet, scratched from past conflicts*
FIGHT!!!
*Mandalore fires at the Dark Lord with his MAR (Mandalorian Assault Blaster) in quick short bursts. The Dark Lord deflects the bolts with his Lightsaber and conjures bolts of lightning and throws them at Mandalore, followed by a Force Blast. Mandalore jumps behind a fallen pillar, dodging the Lightning bolts, but his cover is destroyed by the Force Blast. He stumbles back and fires his MAR at the Dark Lord at longer, spread bursts, followed by a missle giving the Dark Lord no chance to repel the firepower.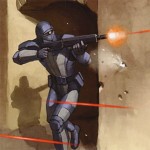 However the Dark Lord manages to push the missle away using the Force, but gets hit by some of the MAR blaster fire. Enraged, the Dark Lord Force Blasts Mandalore into the Arena Wall, severely weakening the wall causing tremors through out the arena. Mandalore recovers rapidly and takes cover behind a fallen pillar, reloading his weapon steadying himself for another quick skirmish. But the Dark Lord won`t allow Mandalore anytime to rest. He force blasts the wall and then conjures two balls of Lightning at Mandalore, quickly followed by ten Lightning bolts randomly spread around Mandalore's area, trapping him in a sea of death.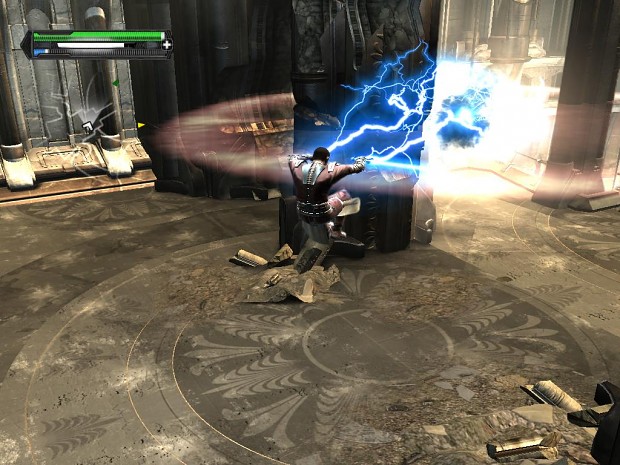 But the Dark Lord underestimated Mandalore, as all of the attacks seemed to miss, but only barely. The Dark Lord looked confused, until he realised that, out of the smoke, Mandalore dived at him using his Jet-Pack. He was letting loose all of his weaponry at the Dark Lord. The Dark Lord, taken aback by this sudden charge, managed to deflect most of the laser bolts but was hit in the chest by one of Mandalore's limited arsenal of missles. Protected by his armor which at that point had started to crack and an immense orchestra of Dark Side powers the Dark Lord survived but was flung back, crashing into a wall. Mandalore continued to charge, but was pushed back by a sudden Force Repulse.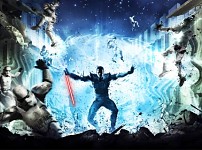 Mandalore was sent crashing to the the Arena ceiling by this sudden attack, but luckily missed it by just a few meters using his Jet-Pack. He then resumes his dive towards the Dark Lord, firing his last missle and some laser bolts from his wrist blaster, having lost his MAR after the Repulse. The Dark Lord quickly Force Blasts Mandalore away, and uses the Force to recover his fallen Lightsaber which had rolled away when he fell, but then gets hit by the missle Mandalore launched and crashes into a nearby pillar. Quickly recovering, the Dark Lord then deflects the remaining laser bolts and conjures lightning bolts, and throws them at Mandalore. Mandalore managed to recover from the violent Force Blast, but saw the incoming Lightning bolts and realised he had not time to dodge them. He therefore raises his hands and uses them to absorb the bolts, though dealing him allot of pain in doing so but also stopping them from doing more harm. Mandalore takes his Beskad blade out, and walks towards the Dark Lord, challenging him to fight him in melee.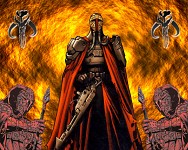 "Come fight me like a man, Dark Lord" Mandalore valiantly cried out. The Dark Lord smirked and replied "Your wish is my command" and took out and ignited his lightsaber. Before entering melee combat, the Dark Lord threw bolts of Lightning at Mandalore and jumped overhead and landed behind him, planning to slash him whilst he tried to deflect the Ligthning bolts. But, being a proficient melee combatant Mandalore simply ducked and the lightning bolts intended for him struck the Dark Lord instead. In a fit of pure rage, the Dark Lord throws bolt after bolt of lightning at Mandalore, whilst lifting a pillar situated infront of Mandalore and himself and throws it at Mandalore.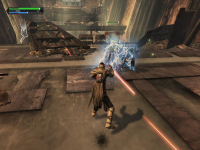 But the Dark Lord had made the same mistake again, and Mandalore, though still being struck by the bolts of Lightning, managed to roll out of the way of the pillar. And at that laughable turn of events the Dark Lord saw the pillar crashing towards him, but he was not so easily fooled this time though, and managed to stop the pillar and turn it to its original target again, still bombarding Mandalore with Lightning bolts. Mandalore sees a weakness in the pillar and uses his blade to cut it in two by enhancing his sword with the Force, using the debris as shields to stop the Lightning bolts. Both warriors were tiring, but they did not show it. The Dark Lord conjured bolts of pure Hate and Anger and threw them at Mandalore, combining with a Force Blast. The result was devastating, as the Force Blast mixed with the pure Darkness. Mandalore looked on in awe and shock as this ball of pure Darkness rushed towards him. He mumbled a small prayer in Mandalorian and quickly grasped rubble from the surrounding area with the Force and threw it at the Dark Lord through the sphere, the rubble shards passing through this ball of Darkness and therefore being infused by it. The Dark Lord didn't notice it, only thinking about victory. The shards that past through the sphere had destabilized it and exploded violently, Mandalore was struck with the power of the Dark Ball and sent crashing into a wall with such power that his armor cracks, revealing his skin. Mandalore was now nearly completely depleted of energy. The Dark Lord, at around the same time, was struck by the small bits of rubble and sent flying a few meters back, but was strong enough to stand again. Seeing a way to win the battle, he conjures up lightning and sends a continuous stream of it directly at Mandalore, targeting the rips in his armor.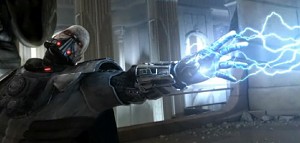 Mandalore was down, but not out. He stood up, holstered his blade in the broken sword compartment of his armor and raised his hand while also pulling out his legendary Darksaber, using the technique he used previously to increase his chances of survival. The Lightning was large, a spectacular show of energy charging towards Mandalre like a stampede of ancient Mandalorian Strill Cavalry, it hit Mandalore with its full might and Mandalore absorbs it struggled to aborb it, several were stopped by the Force technique he learned while other by his Darksaber most though went through him, but with much effort and pain. The Dark Lord, exhausted and shocked at what he was seeing, increased it`s power until it filled the entire Arena, Mandalore cried out in frustration and partial pain as he resisted it, the roar of the leader of the Mandalorians would never be forgotten by the Dark Lord. Mandalore took one step forward, staring his foe into the eye. The Dark Lord, desperately trying to maintain the Lightning, yelled out "Gimti! Gimti dabar!" (confirmed as the language the Ancient Sith used). This epic moment of glory to both warriors lasted for about a minute but to them it might have seemed like an eternity, until the Dark Lord couldn't hold out any longer. He fell down to one knee, exhausted, depleted. He looked up and saw Mandalore, collapsed on the floor. The Dark Lord reached for his Lightsaber, but did not have enough force to move. He then uttered one, simple word:
"Draw"?
To which Mandalore replied:
"Agreed".
They both collapsed onto the floor, exhausted from their dual. They finally got up, recovered their weapons and congratulated each other on a great fight.
VICTOR: None.
VANQUISHED: None.
See that folks? That could be you in a couple of years! Come to the Arena! Fight for credits, fame, glory or all three! Or if you just feel frustrated!
The Arena: Brought to you by Holo-Channel:VI, Underworld Coperation.