One of the past news article title was 'gazing the game last step', the third step; well, little I knew I would had to already do it, as it contains the interesting part of the game for the users; step 2 will now have to wait.
Questverse audience keep growing slowly, already being into an acceptable range, but I believe which the publicizing step of the game already passed some time ago; after studying in theory and practice how a kickstarter works, I'm now focused in first finishing the game and only later doing additional publicizing; I noticed one thing is having a faithful audience, other is to convince them to finance your project. From the last month to the current one I started to show some 3D game characters, changes to the promo video(as usual), textured version of models, and showed a little about how the game dialogue system will look like. If you want to check it out, visit Indiedb.com
Not much profits for the game since the august campaign, just 121 dollars. Three from these four contributors already earned their place associated with the game, by being the first to truly show their support, gaining special mention on credits(with personal phrase and image); congratulations to them, and above all thanks!
Back to the monthly income, I'm still not worried with the current profits, everyone(most of us at least) have to start a business from below before starting to see things from above.
Some images and the always improving trailer:

Questverse Trailer WIP - Indie DB
The game fund raising campaign is still going on, if you're really interested in this project,
check the news about that here or just click on the image below; truly show your support, and be part of the game very earlier steps(with perks to you in exchange of course), do so while there is still time, maybe this game can exceed expectations in the future(also campaign perks aren't forever).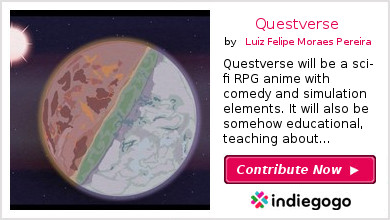 That is all, thanks for your visit fellow space adventurer, we shall meet again at the next monthly report.