Well folks, as you're undoubtedly aware, I have been conspicuously absent recently. Well, I gotta admit, university tends to do that! I'm still working on Part 2 of my fan-fic novel, hope to post it up soon, assuming Uni doesn't throw any more assignments my way.
I also wanted to apologize for not crediting CaptainRegor and Digitaltrends.com for the news article I put up recently. That has been fixed, and I hope to avoid forgetting to give credit where credit is due in the future! Sorry mate! =/
Moving on, I've been re-watching some of the older Clone Wars episodes; and I was thinking....how do you reckon George Lucas is going to tie up the whole Ahsoka story arc? I mean, it's not like he can just kill her off in the last episode! She's not mentioned at all in the actual movies (understandable of course), but somehow he's going to have to justify her conspicuous absence. So, in the comments below, how do you reckon he will handle this? Personally, I reckon he's going to kill her off, probably with Rex *sheds tear* and tie it into Skywalkers fall to dark side. I think it's going to be Anakin who kills her, and somehow keeps it a secret from Obi Wan & the rest of the Jedi, which would explain why she's not mentioned in the movies. Regardless of how he does it, I'm still fully psyched up for the release of season 5!
Finally, welcome to our newest members, hope you have an awesome time here.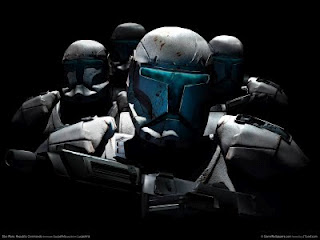 And before I sign out; Best wishes to Bisszy4ever, hope you had an awesome birthday mate! Go kick some ass for the 501st!
REMEMBER, THE 501ST NEVER RUN!