If you were wondering why there hasn't been any news about YYYYY, then you don't have to do so anymore ~ That's because YYYYY's release date for both iOS/Android has been set!
After a few weeks of crafting the abstract and rather minimalistic game that YYYYY is, it is finally time to reveal the release date!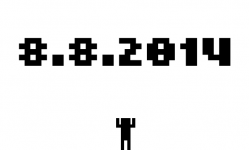 Since it is a rather easy date to remember, YYYYY will be released on both iOS/Android on this coming 8th August! That is exactly 2 weeks from now!
Now while waiting for YYYYY's release, there are a few things that you could do and enjoy during these 2 weeks.
YYYYY Release Trailer
While it is just a simple trailer, it has a hidden message to it. Can you guess what it is?
WhiteSponge's new Live Stream! (Via TwitchTV)
If you have not seen the previous blog post, then this might be new to you. WhiteSponge will be live streaming every Monday, Thursday and Saturday from 8pm to 11pm EST.
If you have only seen a few behind-the-scenes videos that I have posted on YouTube, then you will want to see game crafting/development done live. Here's a quick recorded version and highlight of the first live stream that was done on this Monday.
I will be kick-starting this live stream with making a new game called Booommm! If you want to find out more about Booommm, then be sure to catch the live stream!
Lastly, remember the date with YYYYY on 8.8.2014!