Two new, and related, developments in URR, both of which are almost fully implemented for alpha 0.0.1, which is now penned for first release on the 30th of June!

Directional Field of View.
As of now, all creatures – you and computer-controlled – can only see in the direction they are facing. This means a new trait of creatures has been added whereby the way they are facing (based on the direction they last moved/attacked in) has been added. It also affects what directions creatures can attack in in just one turn. For instance, you cannot turn and attack in the same turn, like in other roguelikes; if you are facing north, one turn will turn you around to the south, and then you can attack anything to the south, south-west, or south-east. This is going to have an influence both on stealth mechanics, and on whether you hit the front or back of torsos of creatures. This latter will not be in 0.0.1 (probably), but definitely will by 0.0.2.

View Types.
There are now three kinds of overlay you can look at the units in the game with. Firstly, you can use the 'Unit Type' view – this color-codes units according to what they are. For instance, different colors of 'h', for human, denote humans that are archers, swordsmen, etc. The second view, 'Alliance', displays in red/yellow/green whether they are hostile, neutral or friendly towards you. Lastly, the 'Stealth' view (these can be toggled at will) displays arrows denoting what direction the creature is facing!Both of these changes can be seen in this screenshot, as an example of a dragon (though dragons are likely to be expanded in size again in the near future…):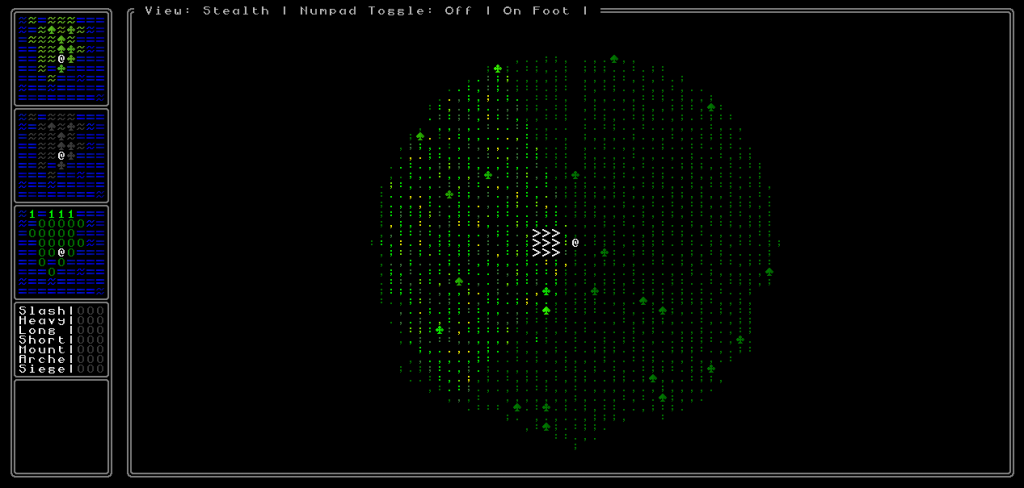 Full size @
Ultimaratioregum.co.uk
You can read more on my devblog, Facebook page, or Twitter feed. The devblog is updated weekly on Mondays, Facebook a few times a week, and the Twitter roughly daily. Plus, those who follow will get updates first, and will likely gain access to the alpha (or particular facets of the alpha) before the general public. We're onto a month now until a first 'tech-demo'-esque alpha release. Stay tuned, and let me know what you think!