Hi, guys/gals, just a short news update today!
We're hard at work on SomniuM and a couple of other projects. One of them has recently been
announced: Freeway Survival - a mobile infinite runner game, scheduled to be
released for free this summer, check it out here on indiedb's mobile sister site
slidedb, or on the official game web site here.

Development status
Back to SomniuM: we're happy to announce that we've finished
all the characters, weapons and environment animations, 90% of all environment
assets are done and we're at a good point with the in-game
video/comics/cutscenes as well. In case you've missed our teaser trailer, which
is also the comics-like intro to the game, you can watch it here: Youtube.com
We do believe that SomniuM: A Dream Long Adventure will be
completed by this fall, sadly we can't give out a more precise release date yet,
but we'll keep you updated!

A new Screenshot
Enough talking! Time to see a new screenshot set into our revised cavern: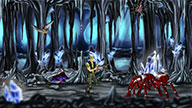 Notice how the level of details has improved on both the environment and the characters since our original alpha screenshots of a year ago: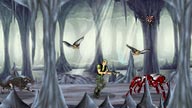 That's all for now, see you in a month and take care!