During the last few days I've encountered some minor bugs and two major:
Some users experienced problem with in-game fonts. That bug caused a lot of problems. Also on some PC's music wasn't looping properly.
Change log:
- Font problem fixed;
- Music loop bug fixed;
- Bunch of minor bugs fixed.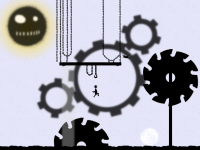 Download new version now!
Moddb.com
PS: Major update with 8 new levels and 3 languages (English, Russian, Ukrainian) will be released in a few weeks. Stay tuned to Rules of the Shadowrealm news!