Crafting Basics: Apricorns
Let's get to the nitty-gritty: To survive you gotta make Pokéballs, and to make Pokéballs you need apricorns.
Background
Apricorns are an item from Generation II (Gold and Silver) that you gave to Kurt who takes them and turns them into Pokéballs for you. Different apricorns were turned into different Pokéballs.
Now, in Survival Island, we're gonna assume that the Player is a freaky ball-making prodigy. The Player can turn apricorns into balls instantly out of readily available materials (we're gonna assume that the workbench contains an infinite number of pre-made electronic capturing mechanisms). However, the types of balls that the Player can create are a little more limited.
Crafting Chart
Here's what you probably came here for, the chart: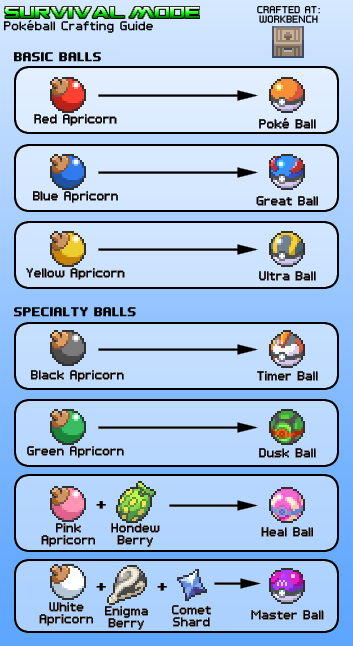 *Note: You can actually create more than one Master Ball in Survival Island, you just have to do a lot of exploring and farming.
Farming
Farming apricorns is as easy as farming berries. First, you need to find an apricorn tree, and pick the apricorns. Then, plant the apricorn in soil. Different types of apricorn take longer to grow, but usually not much longer than a few hours of gameplay. When fully grown, pick and repeat. It's a good habit to always keep an apricorn in your inventory so that you can always re-grow a tree when you run out.
That's it for apricorns! Stay tuned for more Survival Island articles!