Hi wrongdoers!
We've been gearing up to haul everyone's collective ass from remote corners of the world to one spot next weekend: Boston, Massachusetts. But why?! For Penny Arcade Expo, of course! PAX is a huge event for gamers to gather and geek out over the software that will come to dominate their lives in the coming months. We hope to make that outlook a little more sinful, offering shirts, posters, and free pins! Here's what the posters will look like, printed with high quality ink: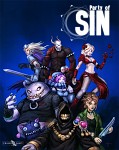 If you happen to be around Boston next weekend, hit us up at booth #873! We'd love to meet you and let you play the game. You just have to divulge all of your opinions about the game, no holding back. We're pushing closer to the testing phase of development and are really looking to polish the game up. Speaking of which, we've been working our fingertips off making the game look its best for its second presentation to Microsoft. The company's judgment of the game will determine whether or not Xbox gamers will get to play Party of Sin on Xbox Live. Here come the embarrassing good luck rituals!
As a result of our hard work, hell1 is now 3 separate levels. This should give the player even more time to figure out the controls and get nice and cozy with the Sins. Here are some screenies. You'll notice that the GUI has been improved as well.
Wish us luck!
The Party of Sins