Hey there! First, we'd like to send a big shout out and thank you to everyone who came by our booth at MAGFest to give feedback on the game. Some of you stayed for hours playing-testing the game and telling us what you liked and disliked, we really appreciate the dedication. There's a wall of text on our staff forums full of feedback that will occupy the team for a long, happy time to come!
Second, we're ready to show off our official trailer for the game:
The trailer features the latest gameplay footage. Please show this to all of your friends and tell them about Party of Sin!
Thanks again to everyone at MAGFest!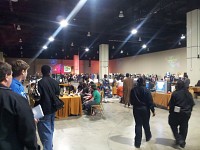 The crowd at MAGFest
Cheers!
The Party of Sins
PS: Happy Birthday Dan Menard!