Hi all, another two groups of 100 players have received invites during the last two weeks, and everything seems to going quite well. Player XHawkerX even started a town on my personal server, something I always find heart warming to see :).
The look of the night
People have been asking about this for ages, and in the next update it will finally be there: a day-night cycle!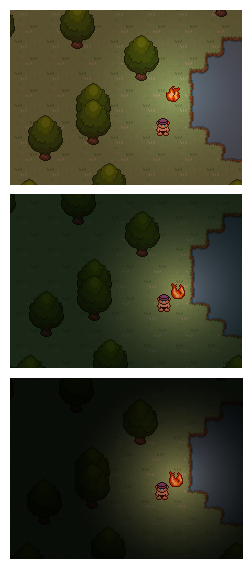 I convinced myself Olvand should have this when I tried out the effect in GIMP, on a picture which, accidentally, was a screenshot of a little town I built. I noticed it looked a bit weird that the windows were dark, so I lit them up... and fell in love: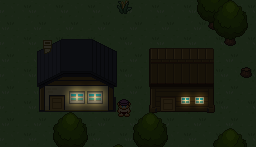 Naturally, lit-up windows are one the first things I added when 'the night' was working. And because we don't want to light up our world with fire Olbs all the time, I'm also working on lamp posts: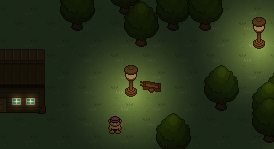 The behavior of the night
Be warned, though, that the night will be nothing like the night in Minecraft (because I know that is what you're thinking), where all kinds of dangerous creatures appear. This is not only because I'm trying to avoid being too similar to Minecraft, it's mainly because I think the Minecraftian day-night cycle makes no sense for Olvand: the cool thing about the fact that danger appears at night in Minecraft is that you can build a fort during the day. The better the fort you've built, the safer you'll be. In Olvand, you gather some materials, click 'Build house', and that's it... you'll be safe forever. There is no real challenge there.
So instead, the night in Olvand will be much more like nights in Animal Crossing: a different game state that changes the gameplay experience and the way you can interact with the environment. For example, instead of cheerful music and birds, there will be crickets and quiet music at night, and at night you will be able to encounter other animals and other Olbs (powers you put in your gun). More about that later (as it will not be in the next version of the game).
However, one thing I never really liked about the Animal Crossing night is the fact that it was real time, meaning that the game time matches the internal clock of your gaming system. This means that, if you only have time to play games at 20:00h in the evening, you'll never see what a game looks like in the afternoon, of early in the morning. I don't want a game that forces me to either get up early or change the time of my machine! For Olvand in particular my guess is that, although the night looks nice, most people will prefer to play when the lighting is normal. Therefore, I'm aiming at a cycle which matches how long people play, with relatively short night. Right now, I'm working with cycles of 30 minutes, with the last 7 of them being in the dark.
If you want more development, see [twitter] or [facebook]. If you want to be a tester, you can subscribe on [olvand.com].