After quite some testing and debugging, Bharath Raghavan Games has finally released version 1.0 of their new game Oblom. Oblom is a 2D puzzle game featuring the monster Oblom.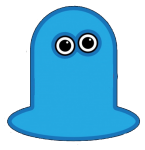 He has to reach the exit, but it is blocked by boxes. You have to move the boxes away so that he can go home. But, there is a catch, you can only move the boxes by switching 2 rows/columns of boxes or by moving the whole set of boxes. This makes it very hard to play. It requires planning and brains to play this game.
Screenshots of Oblom
The levels are generated by the computer. You need superior thinking to win this game. It is quite hard to play this game. But, at the same time it is really fun to play too!
A lot of work and effort went into this game. It was made by Bharath Raghavan, who wrote it during his holidays (he studies in a 12th grade Indian school). He is a brilliant coder and passionate about game designing . But, there were a lot of time constrains when writing this game as his exams were nearing. But, it still came out as a really good game.
This game is in beta testing phase so they would love you give some suggestions. You can write to Bharath Raghavan Games on indieDB (Indiedb.com ) or email at: bharath.rn@gmail.com.
Download the game for free at: Indiedb.com or Brgames.co.nr. The Beta game requires Microsoft Visual C++ Redistributable.
After the suggestions are incorporated the final version will be released soon !