Bharath Raghavan Games has released the beta version 2.5 of their new game Oblom. Oblom is a 2D puzzle game featuring the monster Oblom.

Improvements from Beta version 2
As always there have many been technical improvements to the game.
But, more importantly, a new element of game play has been added. Previously, you could only blast one box. This made the game overly tough. So, now something new has been added. If you arrange the boxes in such a way that there is an empty spot surrounded by boxes on all its sides, then this will produce a bomb in that spot which will blast all the boxes below it. This adds a new element to the game. This update will make you revise your strategy on how to play this game. Here is a picture of it. If you click on the center a bomb will appear which will blast all boxes below it.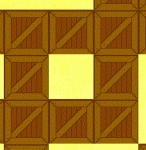 You can write to Bharath Raghavan Games on indieDB ( Indiedb.com ) or email at : bharath.rn@gmail.com. We look forward to more of your suggestions as that will make our game better and better !

Download the game for free at: Indiedb.com or Brgames.co.nr.
After the suggestions are incorporated the final version will be released soon !