Bharath Raghavan Games have released the beta version 2.0 of their new game Oblom. Oblom is a 2D puzzle game featuring the monster Oblom.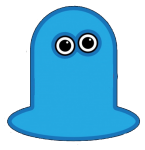 He has to reach the exit, but it is blocked by boxes. You have to move the boxes away so that he can go home. But, there is a catch, you can only move the boxes in certain ways ( see video below ). This makes it very hard to play. It requires planning and brains to play this game.

Improvements from Beta version 1.0
A lot of suggestions have come in through email, and all those have been added. The game features a more stable system and memory management. The frame rate has been stabilized.
Microsoft Visual C++ Distributable has been included with the game so, there is no need to download it separately. Many people were complaining of this.
But, most of all some elements of the game play has been changed. There were many people telling me that it becomes too hard sometimes to finish a level. So, the ability to move the whole board up/down/left/right has been added. This is makes it easier to play.
Also, another addition is to the blasting the boxes. Previously, when you blast a box only that box will blast. But, now all boxes next to it will also blast ! This makes a little bit easier to plan your moves.
Video of Oblom Game in Action
You can write to Bharath Raghavan Games on indieDB ( Indiedb.com ) or email at: bharath.rn@gmail.com. We look forward to more of your suggestions as that will make our game better and better !

Download the game for free at: Indiedb.com or Brgames.co.nr.
After the suggestions are incorporated the final version will be released soon !