Death Star & Lightsaber Customization Concept
It has been a while since we have revealed a big amount of content but here is time for the next reveal! MaceMadunusus walks us through the new level he has been working on: Death Star. He also shows us his lightsaber customization concept.
Some people may not be well aware that Movie Battles III is a Sequel to a modification of Jedi Knight: Jedi Academy built on the Quake 3 engine titled Movie Battles II. First off Mace will be showing what Death Star looks like in Movie Battles II's current iteration, and then showing what it has now become.
As Mace also notes in his post below, this is all WORK IN PROGRESS content.
MaceMadunusus wrote: Hey guys, here is a little reveal for ya! Here is a level I have been working on for quite a while in Movie Battles III. It is of course, Death Star.

I chose to work on Death Star instead of Cloud City first because of its simpler shape and easy use of modular meshes. I felt like DS would be a much better place for me to learn UDK and modeling vs diving straight into UDK. I could also work on it much faster than I ever could with CC because of that simplicity and MB3 needs maps. Especially if we want to release sooner than later we need to get one easy one going.

Everyone is very familiar with Death Star in MB2. This is no different and is currently a near carbon copy to it, with a lot of visual upgrades. A lot of layout changes will be made later on as the map progresses however to deal with some complaints of the current Death Star. All of which you can see below. I am also going to be posting some before pictures, and then some after ones so that people can have a comparison between them. This may take multiple posts so bare with me. And have a look at the saber I mentioned above afterwards!

I am revealing this to you a little early, but I would just like to get it out there so people can see that progress is being made. It is still VERY WIP and still contains some textures from the mb2/jka version. And I could always use the additional feedback. These pictures are also outdated by about a week. There have been some changes since! You will also notice that the curved corridor has no ceiling.
Movie Battles II - Death Star (Before)
Movie Battles III - Death Star (After)
For those wondering: yes the floor is a mirror and it reflects everything!
Luke Skywalker Lightsaber Customization Concept
Usually MaceMadunusus creates Levels and Props in MB2 and MB3, however he decided to try something different for once and create a lightsaber hilt and have a go at making it largely customizable. Here is the result!
Below is a video of his first implementation of the customization, and below that you can see that he has gone even farther and expanded it even more! He was also kind enough to give us a screenshot of the test material for the lightsaber from within UDK!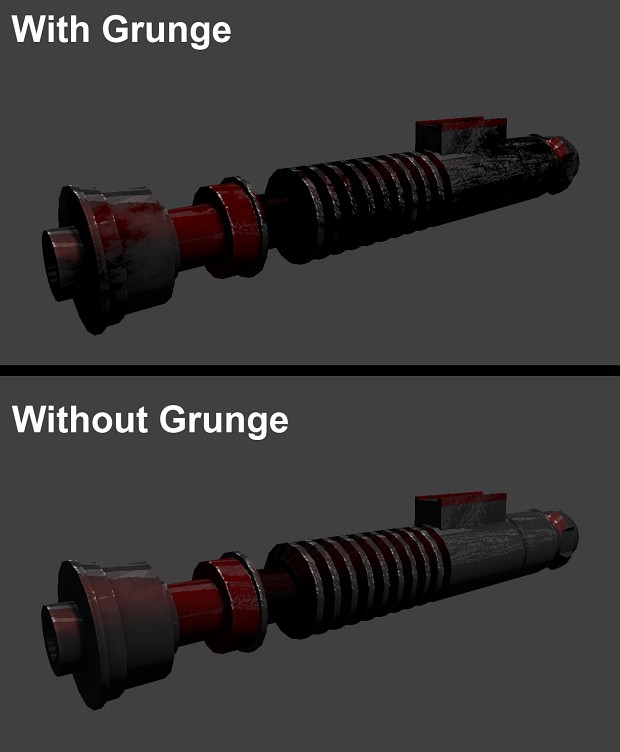 Here is a quick note from MaceMadunusus on the recent update to the saber customization.
MaceMadunusus wrote: ...I added more customization options to the lightsaber once more. This time I added an optional grunge map (turn on/off) as well as the ability to modify the grunge intensity, and the intensity of the cube maps reflection. This allowed me to create "darker" and more "sith like" versions of the saber, which you can see below. I have also included the updated material and a comparison to with and without the grunge map.

This grunge map is NOT a final grunge map, and just one I threw in for testing.
And here is a link to the material!
Enjoy and don't forget to follow us on Facebook and subscribe to us on YouTube!