Good news for anyone who's paid for the full version - you're getting new stuff for your money now!
Remember this?

I'm sure you do ;)
Gender swapping is available to everyone using the Misc [BACKSPACE] menu.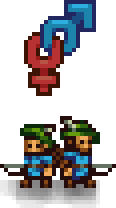 Head customisation is now available to all paid players in-game in all servers. Enjoy wearing flashy hats, helmets and haircuts in-game! For those that have been hoping for a more custom (Do-it-yourself) form of customisation - patience! We're contemplating adding that but will need to figure out a way of making it ergonomic for you guys...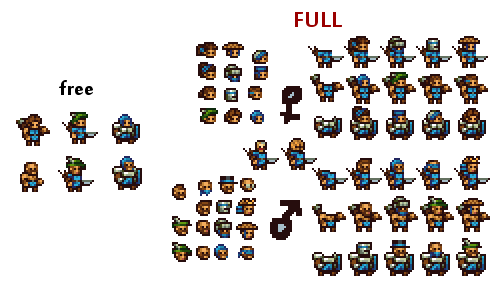 Knight combat has been changed fairly significantly:
Two colliding hits will now bounce off each other!
Getting hurt interrupts charging (this applies to archers too)
Jab no longer stuns but does push away (this applies to builder hits too)
If two knights jab or slash at each other they clash!

Not actual game footage.
Other key changes include bridges being two way platforms and not blocking arrows (allowing for quite complicated team-only structures and elaborate traps, not to mention disguised pathways and more intuitive elevators than doorladders as well as being pretty crap for skybridging now as you can be shot with ease).
Just press [S] (crouch) on a bridge to fall off it.

The camera is now fixed on the player. You can scroll by moving your mouse to the edge of the screen. This change is mainly for new players (especially ones that never played Soldat). You can easily return to the old camera system in main menu -> Player.
An arrow indicating bomb throw direction, many UI improvements (catapult menu especially), a bunch of things to assist in making guards lives easier including the name of anyone causing a collapse in the console, and the usual pile of tweaks likely to garner a thousand complaints ;) (although we tested these for nearly a week to make sure they are good)
Changelog B190a to B200:
- added female characters (player customization) ([BACKSPACE] in-game)
- added head customizations ([BACKSPACE] in-game)

- Misc menu (backspace) doesn't require to hold key
- bridges are now two-way platforms (drop from them with down key [S])
- arrows go through bridges
- removed Advanced Movement tutorial
- fixed arched not falling from top tree
- all objects now fall through bottom of map (flag respawns after falling there)
- increased pick radius of pie menus
- pie menu items are also selected with left mouse click
- fixed collapsed blocks not disappearing at the bottom of the map
- fixed not being able to build castle background over spikes
- fixed spiked castled background not giving support
- catapult fire progress is always displayed when in fire mode
- fixed catapult not changing team on fire
- fixed shield ladder not working on ladders
- removed "test" name above head
- tweaked bomb throwing
- added throw direction arrow on HUD
- fixed bomb wall bounces
- fixes in fast moving player/map collision
- optimized map collision code
- misc menu (BACKSPACE) doesn't require holding the key
- fixed bridge open/close glitch
- rcon commands are logged in console ([RCON FROM PLAYER_NAME])
- admin/guard : [F3] key freezes [F2] key unfreezes player
- added "COLLAPSE by PLAYER_NAME" in console log
- can't switch to team with units depleted
- removed tutorial box and emoticons from tutorial display
- fixed joining game errors
- added fixed camera on/off option in main menu (Player tab)
- lowered bomb jump velocity
- bridges can be built on dirt background
- removed material dropping when overloaded
- hovering mouse on player and pressing chat adds his name to chat (works for chat menu too)
- tweaked jumping
- help UI improvements
- 30% of fallen coins is lost (not dropped) on death
- near spawn respawn multiplier multiplies half the time for outpost
- HUD doesn't fade out if typing in chat
- break time is now set based on a multiplier (lowest team size)
- unit counter is now set based on a multiplier (lowest team size)
- added 1 archer discharge frame
- fixed \loadmap [name] command - loads the map from the folder Maps/[name].png
- added sword blocks when hot other sword
- bomb sparks turn red when approaching explosion time
Combat:
- you lose charge on being hit
- fixed slash on team player
- fixed knight hitting after being hit
- fixes in knight double slashes
- can't hit or shield for 0.5s after being hit
Zombie survival is next on the TODO ( :D )
Geti