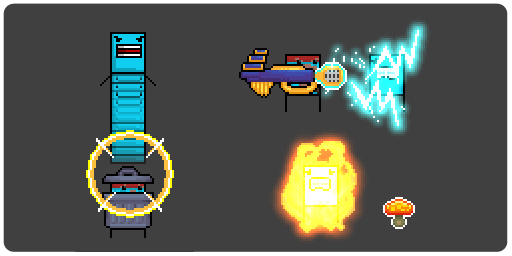 Some of what is new in this release:
Added masterserverside storage for skins and win messages which should open up for some cool functionality in the future, both in game and on the website.
Added weapon: Improved Fly Zapper (a short range and low damage weapon that stuns your opponents, rendering them unable to move)
Added item: Infroom (fiery mushroom that creates a large cloud of fire on impact, setting those unfortunate enough to be nearby ablaze)
Added powerup: Trashcan (reduces damage taken by 75%)
Added map: Mount Icy Top
Added map: CTF Empire
Added map: Solid Gold
Added undo and redo functionality for tile drawing in the editor. (Ctrl + Z and Ctrl + Y respectively)
Added editor settings entry: UndoRedoSteps (default = 16)
Added impairment of aim when under the influence of a Tryptanade.
Added special sound effect for stomping blocks with Golden Boots.
Changed so that blocks carried does not disappear on death but are dropped.
Changed so that Blobus texture has a face.
Changed color of Tryptanade.
Fixed so that pressing ESC from Player Setup or Player Stats screen will not disconnect from the lobby.
Fixed a bug that made it possible to jump while taking off with Infernus.
Fixed some typos in the game server application.
Fixed so that it is not possible to use skins that have a file size of over 50 kB.
Fixed so that it is no longer possible to enter the Player Setup screen when not connected to the master server.