Hi everyone!
I'd like to say a few words about our current project Joan Mad Run, so that you could see what it's all about more clearly.
Joan Mad Run is a classic 2D shooter, that was inspired by beloved retro games and movies and features lots of unique weapons and evil death effects beyond your wildest expectations.
Joan poster: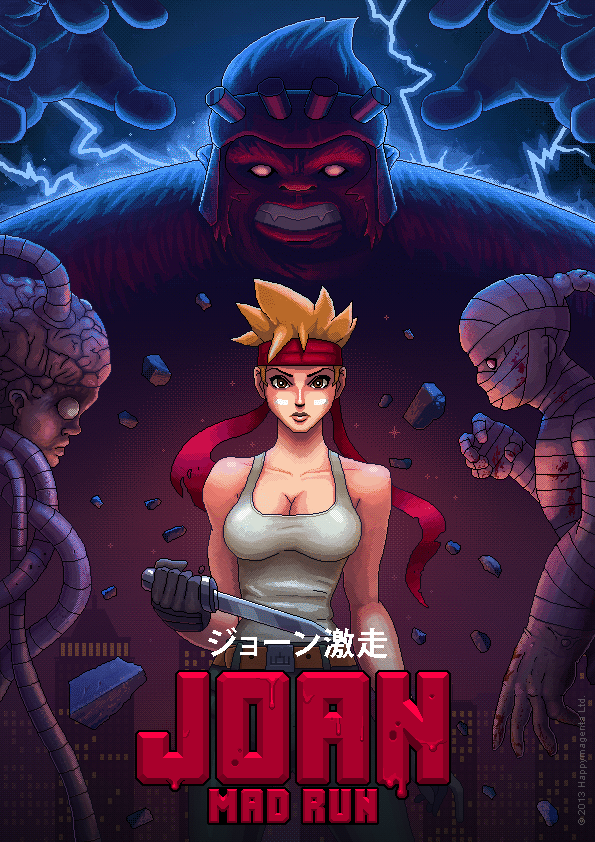 As you might guess, the main hero, or rather heroine, is Joan - a girl with stolen past. The story begins when she wakes up in prison with no memories and no belongings. Left one-on-one with her insanity, Joan follows her inner voice, that craves for blood, and decides to escape and find out the truth whatever it takes.
On your way to escape you will meet dozens of callous enemies, grisly bosses and fatal traps.
Hellish dexterity and a sharp eye are crucial if you want to survive. The complexity and speed of the game will be constantly increasing and blood will be shed. But luckily you'll be able to wield a plethora of insanely powerful weapons, that will turn each death of your enemies into a spectacular show, that would become even more dramatic with weapon upgrades.
Some of the death effects:
Lightninggun in action: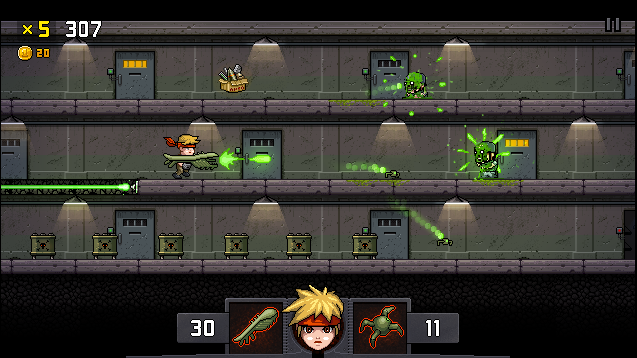 Upgraded Microwavegun effect: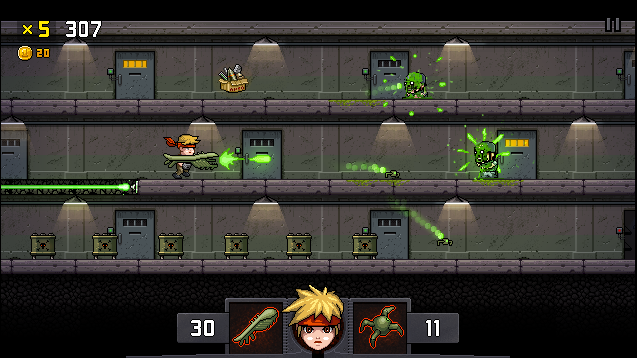 Upgraded Acidgun in action: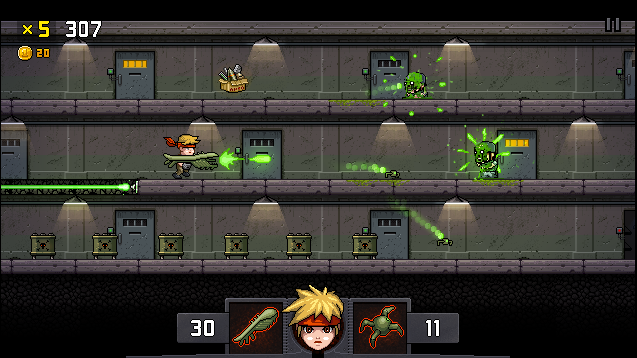 By overcoming more and more new difficulties and completing missions you'll be gaining that crucial experience, necessary to accomplish your main goal - survive and get till the end, however horrible it may be.
At first we planned the game to be for iOS only, but as we shared our progress with lots of people from different communities, we got lots of requests for other platforms. We were heartly welcomed by Steam Greenlight community and were Greenlit in April. And so our current plan is to create the game for iOS, Android, Mac, PC and Linux.

And here are the features that you will see when the game will come out:
single-player / multi-platform co-op multiplayer
speedy breakneck gameplay with brutal boss battles
two or more customizable characters
pet companions
dozens of meticulously designed weapons - from shotgun and katana to monomolecular wire and satanic pighead-gun
exquisite and spectacular death effects: cut, explode, burn, freeze, melt, incinerate, squeeze, send to hell and use even more unique torture methods
weapon crafting workbench that will allow to create stunning weapon combos
plethora of atmospheric locations with over 50 callous enemies to test your limits
dynamic environments with shader-based light and particle effects
lots of secrets to unveil - secret levels/rooms/corridors, unique items and easter eggs
procedurally generated levels
supports many game controllers
use your mobile phone as a wireless controller over WiFi
natively stream game video and audio to compatible TVs and media centers over network
play on desktop and on the go on PC/Mac/Linux/iOS/Android (progress synced across your computers and devices)
will support all US/EU/AP major languages (and yours if you help us translate)
I'll tell and show you more of weapons, enemies, bosses and features in the following updates. And for now your ideas and comments are heartly welcome!