Causal Bit Games is proud to present the Insanity's Blade gameplay trailer. This trailer showcases the a few of the games moves, stages and enemies.
The game is still set to launch for Windows on May 20th with Mac and Linux following shortly thereafter. We had previously announced on the Kickstarter that there were issues with the software we use to build the game having either a memory leak or a limitation to the size of the game we could build, so the optional NES graphics version of the game with some of the old stages had to be cut in order to continue working on the game. The program was constantly crashing when creating new objects or events so we cut down and cleaned up as much as possible to get the game back on track!
The Wii U version of the game went into development a few weeks ago and we are looking forward to bringing you progress reports on that version! At this point we are expecting it to take a couple of months to be completed as it had to be reprogrammed in Unity. But the game is indeed coming! We will get a release date to you later down the line when we have a better feel for what is going on!
We have also been doing some last minute changes to the game. For example, the stage 8 boss which was originally a giant zombie walking in front of the bridge and looking far too cartoony was replaced with this guy: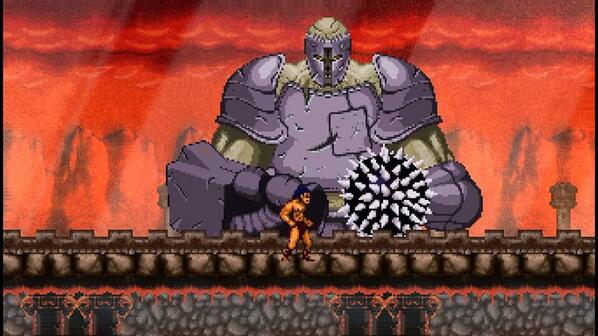 And here is the official Insanity's Blade gameplay trailer! Enjoy!!
Chris