In a previous news post about Shadowing, we showed and explained the basic implementation of Shadow maps. InfinityAdmin has been improving the shadowing for Infinity and has done a lot of experimenting.
Interested? Read the latest Development Journal update on the infinity forums and take a look at this WIP screenshot: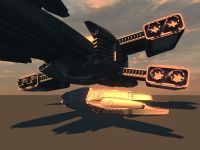 Betelgeuze is working on improving his textures for the planetary terrain engine. Every planet type gets its own texture pack and those can be mixed to get a lot of variation.
Here are some examples:
The shots above were mapped onto a plane and displayed in ASEToBin, so it's not the texture itself. It's a plane with the textures assigned (diffuse, bump, spec) and the shader. Plus each of them is seen with a slight camera perspective.