Shadowing:
InfinityAdmin(Flavien Brebion) has spent the last two weeks working on shadowing. People who are interested in the technical part should read the latest Development Journal update but Im sure most of you are happy with a work-in-progress screenshot ;)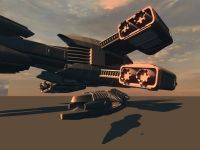 Note: The skybox in this screenshot is copyrighted to the Minas Tirith project(using the same engine) and is not part of the Infinity project. Also keep in mind that there are no textures on the ships in this screenshot.
ICP 2 Corp Wars event:
The second Corp Wars event was started today and will go on this weekend (12/13 January), and it takes place in the latest version of the Infinity Combat Prototype. If you are interested in participating, please check this thread on the forums.
A patch ( 2.2 ) will be available with minor fixes ( crash bug on Nvidia 8800s fixed, a dedicated server, additional server commands as well as the possibility to select the team you want to join ).
Artwork:
Koshime has done a lot of work the last weeks, like many other dev's and contributors. Some of his latest work for Infinity has been uploaded in our moddb gallery, check it out!