Well, I have been busy as usual, 4 months have passed and I am fit as a fiddle, well as fit as fiddles can get. Either way that is all behind us and I would like to focus on new news.
The forums are completely dead right now, I am waiting for the admin of the cs.selu.edu site to fix their server and then after that I will be moving to a new domain. However, for the time being the forums are dead.
Now that being said, for the past month I have been cranking away on models and textures, I only have the federation command center building and the federation construction yard left to model for this next release, now that does not mean things will be 100% balanced, in fact I may have another month or so of balance work to do before the next release. At least I have my health and that means I can model and work unrestricted!
In the last two days I did the gm model which of course means that the lite gm model was little extra to do and I hammered that little guy out quickly. I also included the zaku sniper in the picture for those of you who did not get to see the thread before my forum died. The purple is team color... the gm is in fushia with the other two accidentally in darker fushia, lol.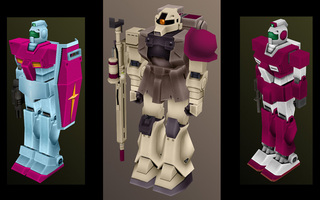 click image for larger image
Also I spent a weekend addressing one of the chief complains about gundam. A fellow spring engine content dev named NEMO from the Spring: 1944 team gave me a hand with animations.
After a day or so of tweaking, this was born. Before you ask, it is from the bleach soundtrack, "Shimpainai Oneesan." It has been made into a library and spread throughout the mobile suits vastly improving all animation.
Outside of that and balance tweaks, it has been mostly coding work and tweaks to hp cost and damage. well that and one other thing.
---
Squads

Thanks to the work of KDR_11k, Gundam RTS now has squads for those less powerful yet interesting vehicles. Now this might seem rather odd but it makes building those cheaper guys more worth your trouble and it also makes selecting troops a good bit easier. The leader of the squad is marked with a team colored star and may or may not have enhance stats or more weapons. It all depends on the squad that you build. For example the tiny AA car when built is 5 cars where as a Zaku 1 is 3 with one of them being a veteran with slightly better stats. More to come on this in the future, things right now are very work in progress but I should be able to post a new video soon for you guys.
To those of you loyal guys who still checked in, thanks for caring! To the rest of you, welcome to the party, erm, waiting room, I promise the wait is long but that nurse is hot! Just a joke but seriously it is going to take a while. if you have anything you want to see as always, I am all ears and can make a video or take shots if you want to see some pics of something in particular. Till next time, this is Smoth, signing out.