Progress on Fulmination is progressing well, because of this I would like to talk a little about the recent work on the project and give a little insight into the calculations behind spawning and scoring.

Leveling System (Ranks)
Fulmination will have a full ranking system; complete with exponential increases of XP required to increase in rank. The current system works by multiplying the next rank numerical value by 130 (progress = real(next_rank)*130). Points earned in either Campaign or Survival mode will be directly added to your rank progression. As it currently stands, the following list represents the numerical score-value of each enemy unit.
- ICBM – 100
- Stealth ICBM- 150
- SAM Site – 200
- Jammer - 180
- SAM Hit - 50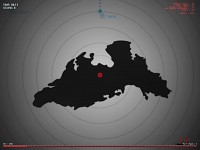 (The rank progress bar is visible at the bottom of the screen)
The ranking system will be limitless meaning that there is no top rank. This allows future unlockable content to be added to the game over time. While we are on the subject of maths, have more!The spawning rate of enemy ICBMs is calculated from the variable "missile_rate". With each unit destruction the missile rate increases by '.2' (missile_rate +=.2). This makes the rate of gameplay linear, increasing in difficulty without exponential growth.
User Interface and New Setting
I've also done a lot of work to the user interface, creating a nice main menu and survival menu revealing a second survival mode setting.
The two survival settings are "Standard" and "Crisis". Standard is an endless variant of the normal campaign gameplay with no multiplier to score or speed. Crisis mode adds a x3 multiplier to game speed (ICBM spawn rate/SAM Spawns/Resupply Time) and a x1.5 score multiplier. More experienced players should enjoy an increased difficulty for a greater reward. Crisis mode will be unlocked at rank 15.
Thanks for reading and please remember to watch this page if you are interested in "Fulmination".