How To Guide: Config RIG
The configuration of the RIG can only be changed while in the Sanctuary as it takes special tools to remove and attach parts. There are 2 config stations in each sanctuary the first is in the storage shop which is your access point for every item you collect or buy that is not on your RIG and the second in in the Hall Of Champions, this is for convenience so you can easily change the config of your RIG between matches. Before you can config your RIG you must purchase armor and weapons how ever for this how to I already have the items.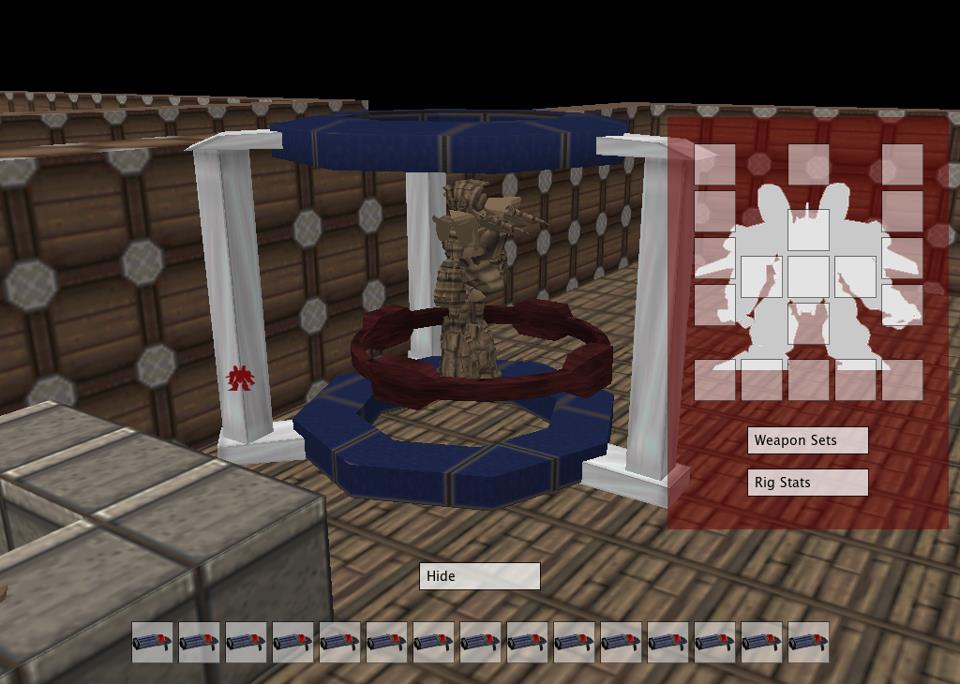 The row of boxes along the bottom of the screen are the items you can attach to your RIG.
On the right side of the screen is where you attach the items to your RIG, if the RIG is not set up in a way that it is usable the background color is red but when configured correctly it changes green.
The middle boxes in this panel are for the Head, Torso, Right Arm, Left Arm and Legs armor.
Where as the nine boxes around the out side are for the weapon attachments.
To attach/detach items you only need to select them then press the attach/detach button (if it is a weapon you also need to select the mounting point you wish to use.).
The available weapon slots depends on the armor you attach and your Class (E-A).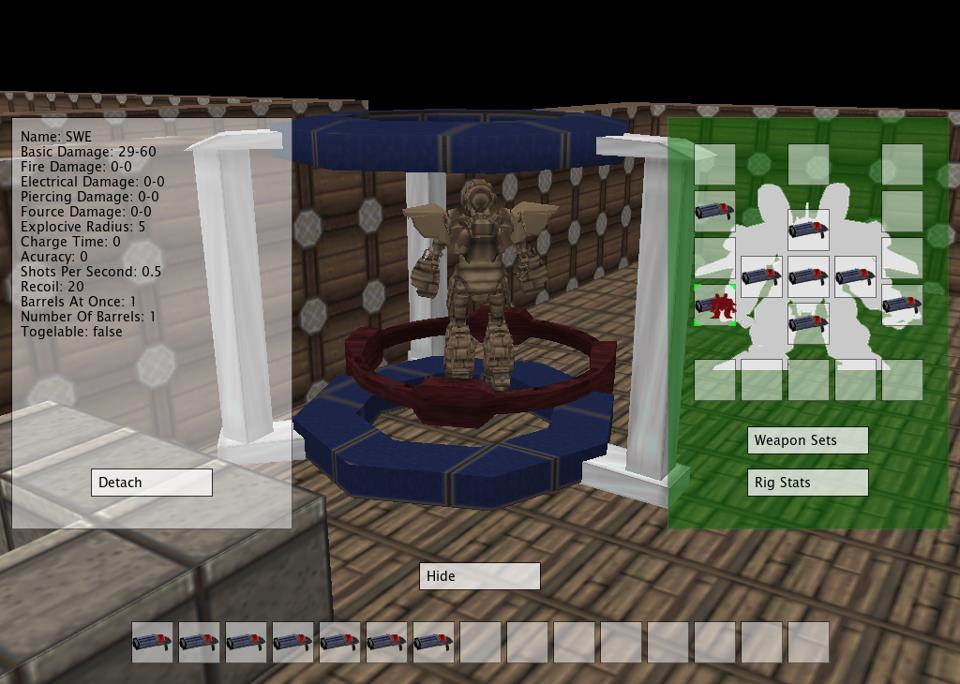 Any time you select one of the items it will give you a brief description of the item on the left of the screen. Once you have finished attaching items to your RIG you have to press the Weapon Sets button to configure which weapons will be set to each key.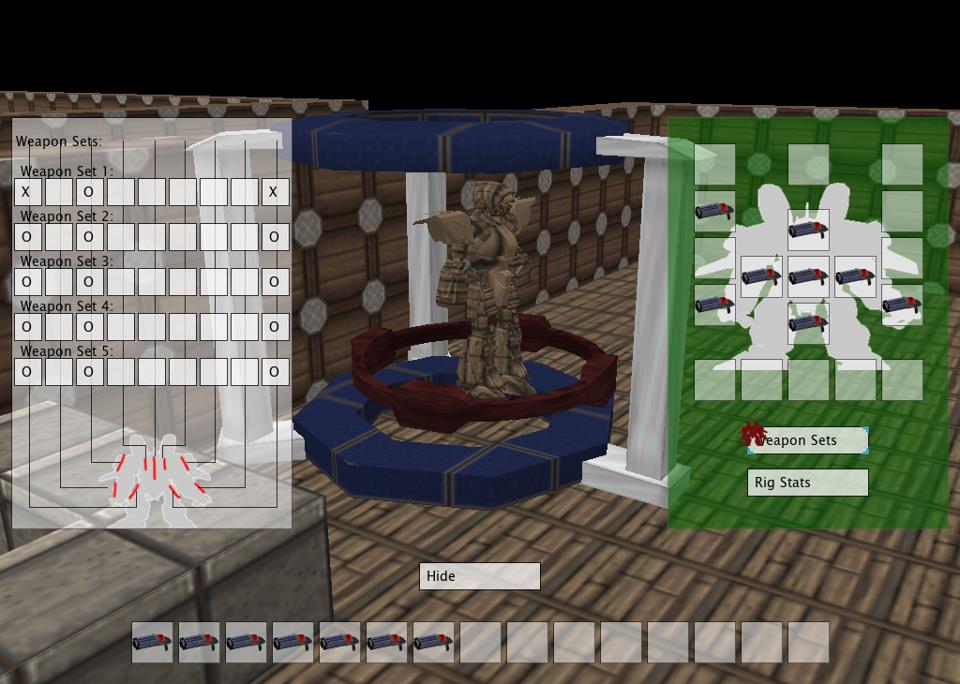 Your RIG has 5 different weapons sets triggered by the 1-5 keys. Simple tick the boxes of the weapons you want to uses in each weapon set. Note you can only use a max of two hand guns at once but there is no limit on how many mounted weapons you can activate at once. Once you are happy with it all you can ether click on the "Hide" button and go back to the previous menu or click on the "RIG Stats" button to get an over view of what your RIG can do. ( At the moment the panel is just plain text.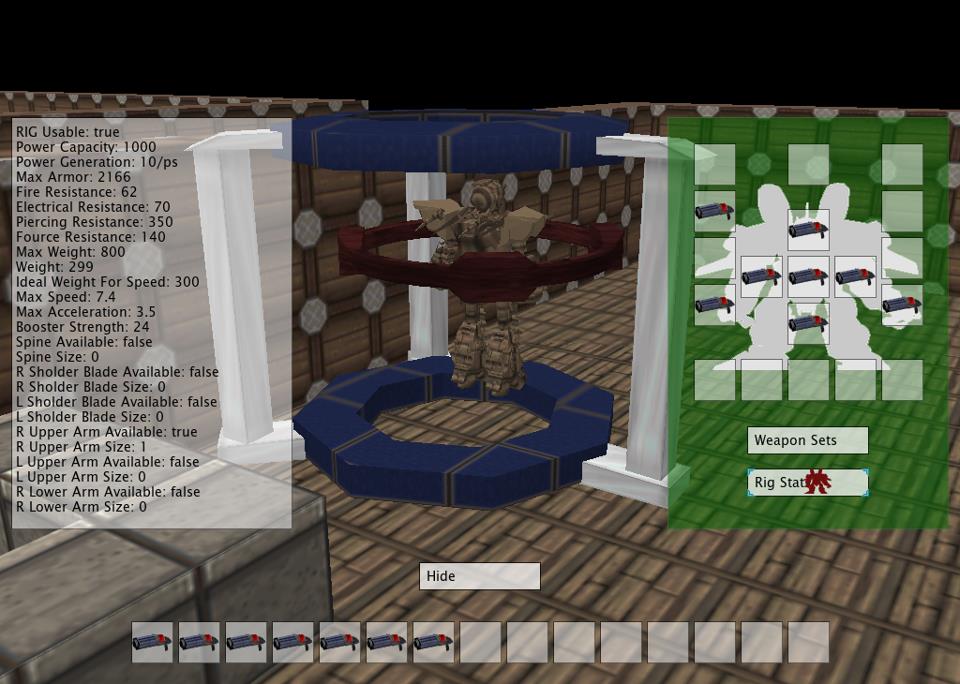 This being my first "How To Guide" I will probably redo this one down the track as I get better at writing them.
Any questions or comments don't hesitate to comment.
Also you can follow this game on face book as well, where i post smaller news like the NPC concept art i just put up on there.
Facebook.com
Thanks for your interest.