I have to introduce our team a bit.
First we welcome our 3 Concept Artists:
Andrew Collis - Gallery
Anastasia Kalivas - Gallery
Tommy Arnold - Gallery
And don´t foget the coders:
Benkei - a former classmate, responsible for client programming
Josip - 10 years of experience in Web development
Now, we made important changes to the Gameplay.
The first intend was having 3 cultures with different abilities and actions to reach the same results. The problem was that this would cause problems soon or later while it would be heavier to balance.
The new solution is dividing the game world into three areas and adding different game modes to those.
So those players who love combat in games can choose the midlands while those who like to just building up cities can choose the West. Both areas can interact with each other instead of any martial activities. The East is available for both cultures but it requires some progress first to reach it.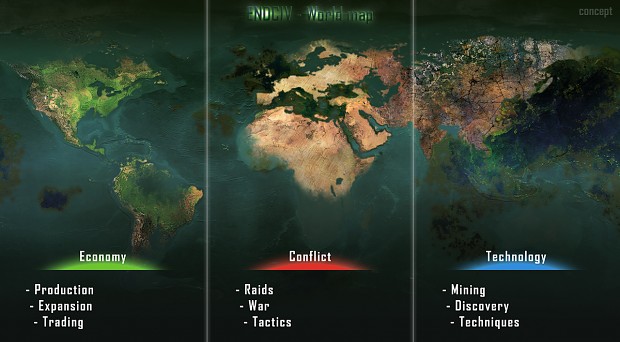 So each area has its own culture with a unique visual style. The reason for this types of play are the geographical attributes these regions have:
- West Flatlands with huge space and the potential to grow plants there.
- Mid Hills and desert but lots of hidden goods, which are protected by other ones.
- East Unfriendly surface and toxic air. This region holds rare resources you need to expand.
We hope we will reach a wide audience with this and found a solution for at least the "someone tramples your sandcastle" feeling.