In the past couple of days, I have been able to get some new stuff done. I finally got "custom" sprites working and I have a basic menu. Currently, my plans are to finish most of the things I've started so far and then release a demo for testing. So what exactly are these things I need to finish? Mostly Menus, map stuff, roofing, and various fixes.
Custom Player Sprites: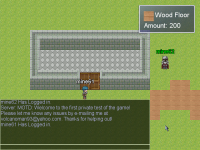 Progress on Menu: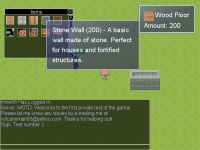 So what are the current issues with the game? Well, many things to be honest, but my focus currently is an issue with kingdom name not updating on map transfer. For a lot of my testing, there was only one map. I have begun to add multiple ones and this has raised a few minor issues that I am working on. I would also like to finish the menu, add a hotkey bar, and add a menu with info about the map the player is on. Another issue I have had is flawed roofs. The way roofs are added is supposed to imitate RMXP's autotile placement. However, this can be a little tricky to emulate in-game. I am working on improving this to make it easier for the player to use.
As soon as I get all of the fixes done, I plan on releasing a test version. What would this entail? Most likely 5 - 10 empty maps ready for testers to edit, basic kingdom commands, basic menus, functional building, and custom sprites. I still would like some more testers for this, so if you want to sign up, please let me know! After the testing is complete, I will work on improving the gameplay in general, adding kingdom challenges, and hopefully combat soon after. Thanks for checking in on my progress!