When we started Contagion the idea was to take Eugene and Marcus 2 creations of mine from ZPS and tell their story. This time through Sam our concept artist used the references and descriptions provided and hit the mark perfectly. Josh was then given the task of creating the foundation of our game the character models that would be Eugene and Marcus. Not long ago we revealed Marcus but now it's time to give you Eugene. Together they represent the type of friends and human beings who could potentially survive the coming horror-
We're also excited to show of another weapon in our arsenal the Sig Pro SP2340 pistol-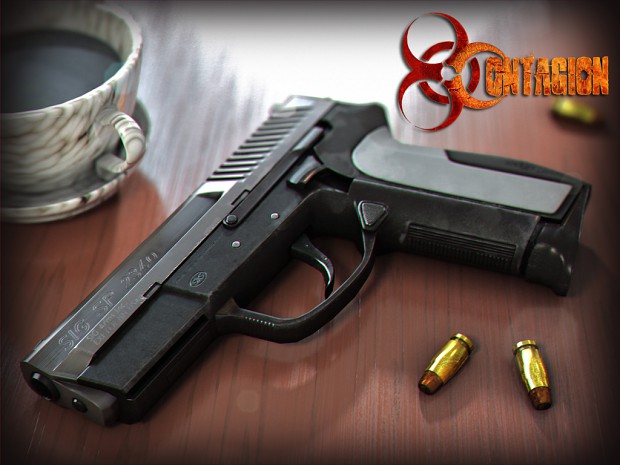 While the site has been up and running for testing purposes and tweaking for the last few weeks for those who haven't stumbled upon it yet check out our new website thanks to Tom our Webmaster & PR wiz-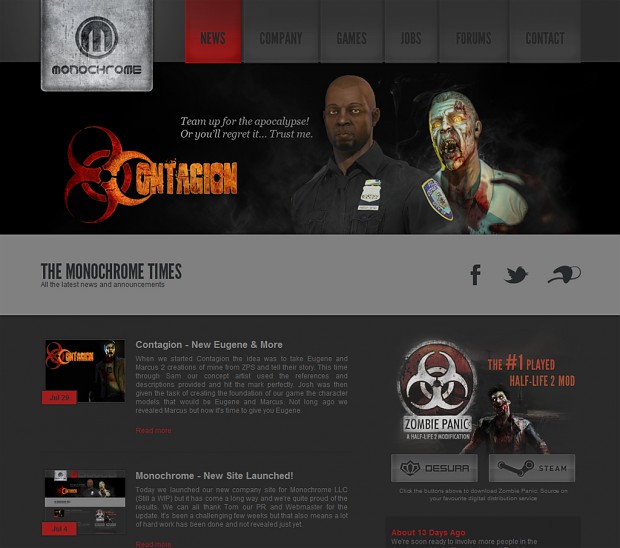 Contagion-Fans.com has also run another Interview this time running Ulrich our Lead Sound Engineer through some questions.
Contagion-Fans.com wrote: JoeH04: What type of sounds do you think is the most fun to work with?


Ulrich: In my opinion it's the sum of different sounds which create a soundscape. A sound itself can be interesting, but it really comes to life when you script it with other sounds and put properties like pitch, random placement and level to them.
The full interview can be found -here-
For those of you who have been following us on Twitter and/or Facebook you've probably heard us announce our intentions to bring on new testers. We're very serious about this and hope to get this going next month so we again ask that you register on our Monochrome Forums as well as follow us on Twitter, Facebook, and/or IndieDB.com if you're interested in participating. Also like to tease that we may be releasing in-game footage in the coming weeks so again keep up to date with our social networks!
Currently Seeking-
3D Environmental Artist - Apply
- Working knowledge of 3DS Max or XSI and Photoshop
- Mudbox and/or Zbrush experience a plus
- Experience with the Source Engine preferred
Level Designer - Apply
- Working knowledge of level design tools
- Experience with Valve's "Hammer" level editor preferred
Visit our Jobs page -here- and apply for any of our other positions as we will be looking for more developers in the near future.